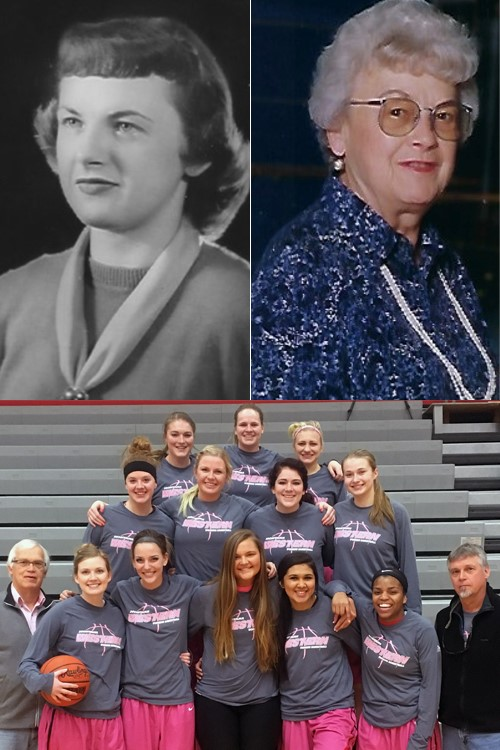 #ThrowbackThursday - Giving Back
With Thanksgiving just a few weeks away, the subject of our November Throwback Thursdays is "Giving Back." Our first "Giving Back" is one that is near and dear to my heart. The subject of this Throwback Thursday is my Mom, Rosemary Jean (Stamm)Feldt.
She was the third generation of our family to graduate from Montana Western. Mom was one of the graduates that had two of the school's names on her diplomas. First Montana State Normal College (MSNC) and later Western Montana College.
Our great aunt Kate Wilson was the first family member to graduate from the Dillon campus and she was one of the school's first graduates. Grandmother Frances Hiscock Stamm was next, then Mom, and then my brother Mike and I.
When Mom first graduated in the late 1940's, a two-year certificate was all that was needed to be certified to teach. Mom's first teaching job was in Townsend, Montana. She taught for a couple of years before getting married and becoming a full-time Mom.
When Mom re-entered the world of education, she need to upgrade her two-year certificate to a bachelors's degree. Because of her previous teaching experience, just one year, including the regular academic year and courses in the summer, was all she needed.
Mom taught for 40 years. In addition to Townsend, she taught four years in Deer Lodge, Mont. and the reminder of her career in Dillon, Mont.
We lost Mom in 2002 after a long battle with breast cancer. It didn't take my brother and I long to start a scholarship in her name, the Jean S. Feldt Memorial Scholarship. At first, it was given to a female student-athlete and later more defined to a women's basketball student-athlete.
"This scholarship is a fitting tribute to our Mom," Mike said. "She loved attending Western basketball and supporting all things Western. She would be very proud of the accomplishments that the scholarship recipients have achieved."
Why an athletic scholarship? Well growing up, Mom would go to our games, me thinking she was just doing her Mom duties. She occasionally would watch games on television but didn't appear that interested. I was a bit surprised at her excitement about attending the Fiesta Bowl.
Mom was a zealous golfer and played whenever she could.
In her later years, she turned her passion to her grandkids. Mom also became a passionate Bulldog fan, in particular, women's basketball. Here again, assuming that she was just attending for the social aspect, not knowing she was a former great athlete herself.
Mom never talked about participating in athletics. But, when doing research for a previous Throwback Thursday, I learned my Mom was a very good athlete. During her time at MSNC,
she was active in the Women's Athletic Association (WAA). Mom was an officer and a member of a couple of championship teams.
Mom's scholarship has grown to the point where we now give two each year. A few years ago, Mike and I donated Pink Zone shooting shirts to the women's basketball team in honor of Mom. The shooting shirts are gray trimmed in pink. Mom's initials JSF are located on the rear neck of the shirt.
I imagine that Mom was happy and proud when the Bulldog women won a national championship last March. Once and forever, Mom will always be a part of Bulldog athletics through her memorial scholarship. Mike and I enjoy the process of selection and then watching the scholarship recipient find success on the court and in the classroom. We are proud to help Mom play it forward and help exceptional young women in their journey of life.
Pictures: first is Mom's teacher picture in her first year at Townsend. The second is her final year of teaching at Dillon. Third picture is of Mike and I with the first team that wore the shooting shirts in Mom's memory.
The original post can be found on the University of Montana Western Alumni Facebook Page.