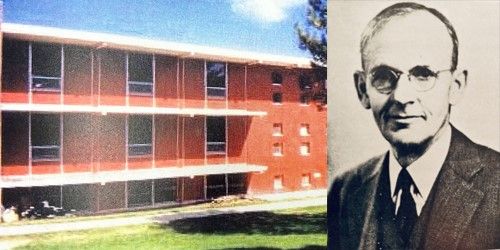 #ThrowbackThursday, Davis Hall
In the early days of Montana State Normal College (MSNC) most out-town students would board with local families during their college stay. Then as the college grew, the need for better student housing grew and the first dormitory was build on the MSNC campus. The campus continued to grow and with an increase in the student population grew, so did the need for more dormitories.
We'll share the early MSNC dormitory life story in a later Throwback Thursday. Today though, we look at one of the newer residence halls on campus and it's namesake.
In 1959, Davis Hall was completed to house 90 male students. It was built at the cost of $233,000. The construction of Davis Hall was part of two-year building boom on the Western Montana College campus.
The dormitory was named for Dr. Sheldon E. Davis, the university's fifth president. Davis served as MSNC's president from 1919 to 1946. During his 27-year tenure, Davis laid the groundwork, both academically and culturally, for the continued success of the campus.
Davis was highly respected by the students, faculty, the towns people and educators from around Montana. During his tenure, he organized and endorsed an intercollegiate athletic program, guided in the choice of school colors and a mascot. Davis encouraged student clubs and organizations.
Academically, he had the reputation as a firm and conservative academician. The centennial history book said many milestones occurred during Davis' tenure as president. It is only fitting that a campus residence hall (the new name for dormitory) is named for him.
When Davis Hall first opened in 1959, it was strictly a residence hall. But, as time went on, the campus grew and so did the role of Davis Hall. In recent times, remodeling has taken place in the bathrooms and the built-in furniture that came in the original design has been eliminated.
The second floor now houses Residence Life offices, Housing, Orientation and the Bulldog Card offices. Residence Life has teamed up with Dining Services for Baxter Bites, a place students can grab an evening snack outside the regular food service hours.
Davis Hall, like all residence halls on the Montana Western campus, is now co-ed. One very important function of Davis Hall has not changed since the beginning, it continues to host the Residence Life mail boxes.
The original post can be found on the University of Montana Western Alumni Facebook Page.