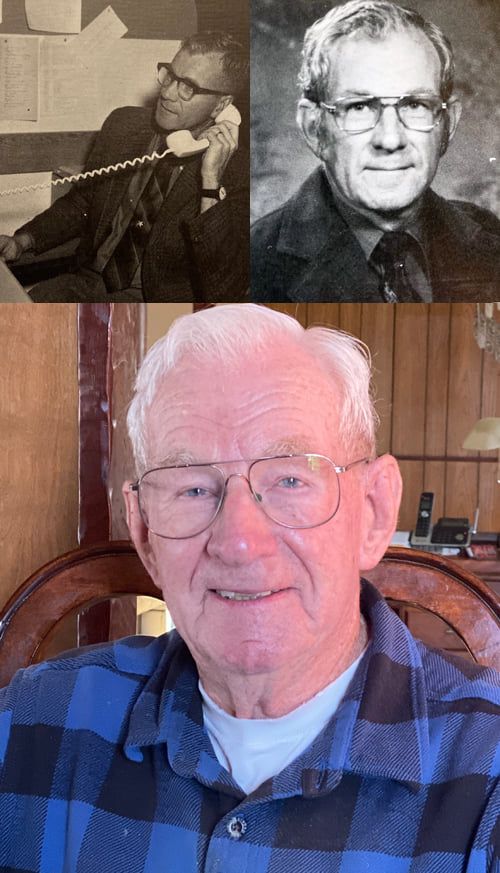 Throwback Thursday - Alan Zetler
Happy Thanksgiving to all!
Out Throwback Thursday theme this month is 'Giving Back'. Our Throwback Thursday spotlight this week is on Dr. Alan Zetler. We are so thankful he was part of the Western family for so many years as a classroom innovator that helped shape many students in becoming great educators.
Zetler was a member of the education faculty at Western Montana College (now the University of Montana Western) from 1970 to 1986.
He was a graduate of California State Teachers College of California, Penn. Upon graduation, he had a short, two month stint as a teacher at Pleasantville, Penn. His education career was interrupted by the Korean War. Zetler was drafted and served two years in Korea after the Armistice was signed.
Zetler served with the army engineers building and rebuilding bridges. After his discharge, he returned to the classroom not as a teacher but as a student at the Colorado State College of Education (now the University of Northern Colorado). Zetler not only received his Masters, but he met and married his wife.
When looking for their next home, the Zetler family had one basic criteria. They wanted mountains and an outdoor lifestyle. That criteria led Zetler and family to Harrison, Mont. He taught math, industrial arts and physical science at Harrison High School.
From Harrison, the Zetler's moved to Bozeman, Mont. where he taught math and later served as an assistant principal. After six years, he entered graduate school at Montana State University and for three years, was a full-time student. His doctorate is in school administration.
Upon completion of his doctorate studies, Zetler was offered a position as an assistant professor of education at Western Montana College. During his tenure at Western, in addition to teaching, he served as Director of Student Teachers, Director of Teacher Placement and Dean of Education.
Zetler cites C.R. Anderson, a professor of education at Western, as a personal mentor. Anderson's innovative philosophy of teacher education influenced Zetler as he moved forward in his career.
During his time as Dean of Education, Zetler was part of a 'think tank' of education deans from around the state. With the adoption of the new Montana constitution in 1972 and its new educational philosophy, Zetler and others combined their thinking to develop fresh ideas in helping new teachers become better teachers among many new ideas.
That innovative thinking and several years of research and study resulted in a manual written by Zetler and Lee Spuhler "The Single Best Thing, Mentoring Beginning Teachers, a Manual for Program Designers and Participants."
A quick side-note, Zetler always wore a tie when instructing, whether it was in public schools or in the college classroom. His reason was simple, respect. Respect for the school, respect for the class and respect for his students.
Upon retirement from WMC in 1986, Zetler may have left campus but he didn't leave Western. He was appointed by then president Mike Easton to head the school's accreditation process. What was originally a three-year contract turned into an 11-year position.
With his experience and innovative thinking, Zetler also worked with the Montana State Board of Education which led to work with the Idaho State Board of Education and work with three three universities in North Dakota.
When he finally decided to really retire, he did what all retired people do, he traveled and enjoyed life away from the rigors of a work day.
He continues to support Montana Western in many ways. For several seasons, he has been a volleyball adoptive parent. He has attended every Bulldog volleyball, basketball (men and women) and football games in the last 25-plus years.
Zetler is also a fierce supporter of the arts on the Montana Western campus and the Dillon community. The loyalty of the arts stems from a time in his younger years when the arts came to his aid during some unsettling times as a high school student. Zetler was also a participant in drama productions during his college days as well.
Dr. Alan Zetler has been giving back for many years and giving back in so many ways and continues to do that in the present. He was one of the financial supporters of the new volleyball locker room for the Bulldog volleyball team. He didn't hesitate when asked if he would like to help. He simply answered the challenge. But that's how it has always been for him. Whether its figuring out ways for a new teacher to be able to better adjust to his or her's new career or whether it's helping the Bulldog volleyball team, Alan Zetler knows the meaning of giving back.
left to right, Alan Zetler in first year at Western, and final year at Western. Bottom photo is of Alan today!
The original post can be found on the University of Montana Western Alumni Facebook Page.