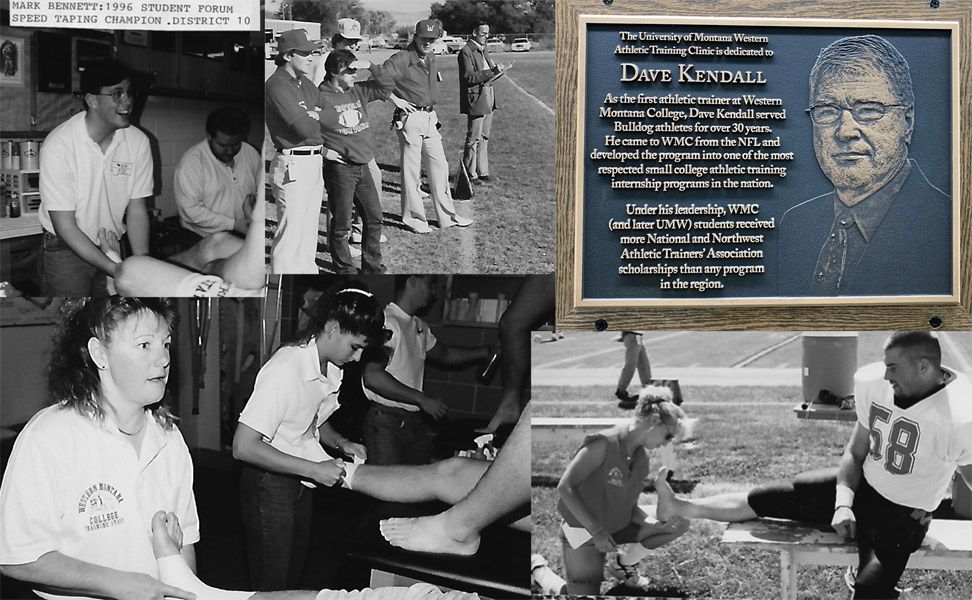 The topic for our first Throwback Thursday of 2020 is Athletic Training at Western Montana College (Now, University of Montana Western).
For many years in the world of collegiate athletics, the duties of an athletic trainer were usually handled by coaches, assistant coaches and student managers. And those were the bare-basic duties such as the wrapping of ankles. Any serious injuries were treated by a physician.
In 1977, then athletic director Nyles Humphrey had idea for a sports medicine program at Western Montana College (WMC). Humphrey thought it could be a program that would help secondary education, physical education graduates become more marketable. Western wasn't the first school to add a sports medicine program but Western would have someone that the other schools didn't have. That someone was Dave Kendall.
Initially, the plan was for Kendall to design the sports medicine curriculum and be the head athletic trainer for Bulldog athletics. Landing Kendall was like Humphrey scoring the game-winning basket. Kendall was the head athletic trainer for the NFL's Tampa Bay Buccaneers. He had been an assistant athletic trainer for the NFL's Denver Broncos and NFL's Oakland Raiders, and the head athletic trainer at the University of Pacific.
It wasn't long after Kendall arrived that the program began to receive national recognition. He tweaked the program by turning it to an internship program.
Kendall's program was innovative and intense. Students not only had their regular class load to take care of but then add 300 hours of internship hours per semester. Those hours were spent in the gym, on the field, in the arena and of course, in the athletic training room.
"We kept our curriculum and increased our internship hours," Kendall said in an interview. "After we altered our program, the National Athletic Trainer's Association (NATA) also decided there would be curriculum requirements. When they developed those requirements, they actually fell right in line with what we had originally established at Western. We had to change nothing."
As the years went by, the success and reputation grew nationally for one of the best small college sports medicine programs. Graduates have gone on to distinguished careers in education and athletic training on all levels of competition. There have been graduates who became teachers who held dual roles as an athletic trainer and then moved into administrative positions.
There have been graduates who have been athletic trainers for professional sports teams. And the list goes on and on and on. Stan Johnst0n, one of the programs very first graduates, became head athletic trainer for the Los Angeles Dodgers.
The success stories of Western sports medicine graduates prove that Kendall's curriculum clearly made an impact on those graduates but also an impact on the student-athletes they served.
During Kendall's tenure, his students won more NATA, District 10 scholarships than any other school in the district. That included the very prestigious Naisby Rhinehart scholarship.
"That was a stat that Dave was very, very proud of," said 1982 Western graduate Russ Richardson.
"Dave taught us professionalism," Richardson added. "He taught us respect for discipline and respect for the profession."
Another impressive statistic is the amount of certified athletic trainers the program produced. In all, 30 Western graduates achieved the distinction of earning NATA certification. Dillon's Betty Tash Iverson was the program's first graduate to be certified.
Kendall also had influence on health professionals outside the athletic student trainer circle. Dr. Ron Loge was the first Bulldog team doctor and recently told an alum that Kendall taught him what he needed to know in respects to being a team doctor.
At the turn of the 21st Century, educational requirements which qualified individuals to sit for the national examination and earn their Certified Athletic Trainer credential changed.
Internship programs such as the one that had successfully operated at UMW for many years were phased out and "curriculum" programs like the University of Montana's offering were transitioned to bachelor's degrees in athletic training.
Institutions seeking to offer athletic training education programs were required to increase faculty within the program and align courses and clinical experiences with an expanded set of competencies.
Montana Western was not able to add a specialized degree in the field and graduated its final sports medicine option student Gen Ludwig in 2004. She completed her certification examination and went on to earn a doctorate in education.
Ludwig has served as an athletic training educator in bachelor's and master's degree programs in athletic training in Minnesota, Oregon, and Idaho-ensuring that the Montana Western legacy of athletic training continues to be passed on.
Educational requirements for athletic trainers have transitioned again and within the next two years all athletic training education programs will be offered at the graduate level.
Kendall passed away in 2012 and his legacy will live on for future generations. Student-athletes are reminded of Dave every day as they walk into the Dave Kendall Athletic Training Clinic.
A special thanks to two award winning WMC sports medicine graduates, Janelle Grow Handlos and Russ Richardson for supplying inside information and stories for this piece. Janelle wrote the segment on sports medicine's finale on the Montana Western campus. Also, a big thanks for the use of the WMC Athletic Training bible, I mean scrapbook! What a priceless treasure of a remarkable program!
On a final note, they are athletic trainers not trainers!
The original post can be found on the University of Montana Western Alumni Facebook Page.