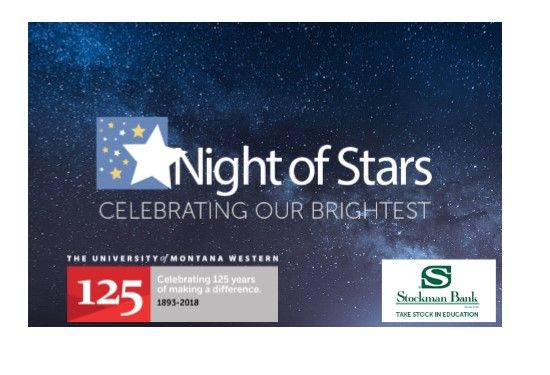 Did you know that Montana Western has an Education Hall of Fame? That is correct, a hall of fame that honors educators! There are many collegiate athletic hall of fames around the country but only a few collegiate education hall of fames.
The 2020 Night of Stars, Montana Western's Education Hall of Fame is set for April 25. The Education Hall of Fame was created in 2011 to recognize and honor education graduates. Not only graduates who spent their career in the classroom but those who made the transition from classroom to administration. We will celebrate teachers past, present and future who have made or are certain to make a great difference for children.
For over 125 years, our alma mater, the first Normal or teacher education school in the state of Montana, and under the banner of several names (the Montana State Normal College, Western Montana College and the University of Montana Western) has produced generation after generation of incredible educators.
Those educators have gone on to make their mark in the classroom and in the lives of their students. Many have been rewarded with local and national awards. Most have been rewarded by making a difference in a student's life.
I have attended all of the previous Night of Star ceremonies and all were amazing events. As entertaining and emotional as the acceptance speeches were, the highlights were the comments of the former students of the inductees. You knew that educator who had made a difference in not one student but many.
The search continues for more educators to recognize. Is one of your former Western classmates doing incredible things in the classroom? Is that former classmate doing it all unselfishly with the goal of making their student's time in the classroom not just educational but life altering?
Did you think of someone? For a look at past honorees of the Montana Western Education Hall of Fame and a nomination form, click on this link https://www.umwfoundation.org/a…/nominate-and-recognize.html
After nominating that special educator, make your reservation and join us for a Night of Stars. Several of my classmates from the 1970's have turned that April weekend into our annual reunion.