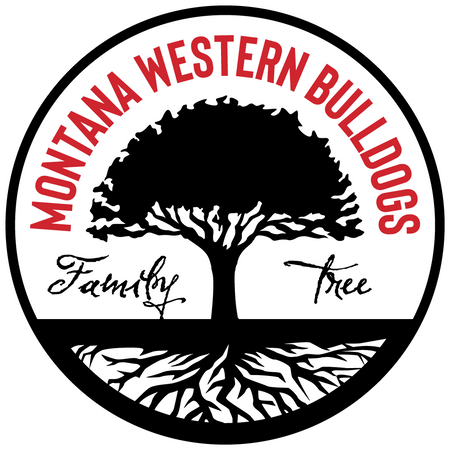 The Connors-Rewerts family, the first chapter in our new Throwback Thursday feature, the Montana Western Family Tree. In this feature, we will spotlight families with multigenerational students that attended Western.
When Butte, Montana native Dan Connors made his decision to attend Western Montana College in 1949, his goals were probably quite simple. He would go to college, play sports and get an education. What he probably didn't think about, was being the foundation of a multigenerational Montana Western family.
Connors was a social studies secondary education major. As a Bulldog student athlete he was a three-year letterman in three sports; basketball, baseball and football.
Connors played on the 1949 undefeated and conference champion Bulldog football team. On the hardcourt, he earned all-conference honors. In one press clipping, Connors was called "the best defensive player on any court."
In addition to competing in athletics and the usual classroom duties of a student, Connors also found time to serve as president of M-Club, compete in debate and even participated as a song and dance man in campus talent shows.
Probably his biggest achievement at Western after obtaining his degree was capturing the heart of Sue O'Dell. They were married Saturday, May 16, 1953 in Dillon at the St. Rose Catholic Church
After graduating in 1953, Connors was an intelligence officer in the United States Army.
His teaching and coaching career began in Victor, Mont. In 1960, Connors began a 15-year stint at Miles City Sacred Heart where his football teams were 113-15 and his basketball teams were 264-101. He won Coach of the Year honors in both sports.
From 1974-1993, Connors was athletic director and head men's basketball coach at Miles City Community College. He was twice named the Mon-Dak Coach of the Year.
Connors was selected to the Montana Coaches Hall of Fame in 1984 and to the Western Montana College Athletic Hall of Fame in 1993.
Dan and Sue had seven children. Diane Connors Rewerts took her Dad's advice and journeyed across the state from Miles City to Western Montana College in the fall of 1975. Her end goal, an elementary education degree in music.
At that same time, Rik Rewerts traveled from Cut Bank, Montana to WMC on a football scholarship in pursuit of a secondary education degree with a major in physical education and a minor in business. It was a wise and life changing decision for both.
Diane's musical prowess as a pianist was quickly realized on the WMC campus. She became the lead accompanist for the Western Cantabaliers as a freshman and those duties continued through her time at Western. Her musical talent was further recognized as Diane was the recipient of the prestigious Ralph McFadden Music scholarship.
Rik had an impressive athletic career at Western. He came to WMC on a football scholarship but added track and basketball to his resume. In football, he was a member of the 1977 Frontier Conference championship team. Individually, he earned football all-conference, all-district and All-American honors.
His Bulldog track resume included the 1976 Frontier Conference high jump title as part of a team conference crown. In his brief tenure in Bulldog basketball, he was a member of the conference tournament champs in 1979.
For both Diane and Rik, their most memorable moment of their days at Western was when they met and Dillon was where their family began. They were married in the summer of 1976 and daughter Shelly was born in Dillon the following year.
Upon graduation in the spring of 1979, their teaching debut was that fall in Noxon, Mont. Diane taught second grade while Rik taught K-12 physical education.
They taught two years in Noxon. A significant event of their Noxon stay was the birth of son Nik in 1980. Next stop for the Rewerts was Libby, Mont. Diane taught there for 31 years. Rik taught PE and business, and coached basketball and football before becoming the Libby High School athletic director and vice principal.
Rik retired from Libby H.S. in 2011 and returned to where the Rewert's professional journey began, Noxon, where he served as an assistant principal for five years.
Diane's educational journey was not quite finished after she retired from the Libby School system, She completed that journey as principal of W.F. Morrison elementary school in Troy, Mont. for seven years.
Rik was individually inducted into the Montana Western Athletic Hall of Fame in 1992 and inducted again as part of the 1977 championship team in 2013.
Diane was inducted into the Montana Western Education Hall of Fame in 2013 and received the prestigious Montana Association of Elementary and Middle School Principal's Adrian Langstaff Award in 2018.
Remember Diane and Rik's son Nik born in 1980? Nik said he didn't need much prompting on where to go to college, he knew he wanted to go to Western after he attended his Dad's induction into the Bulldog Athletic Hall of Fame at the age of 12.
He arrived at Western in the fall of 1999 on a basketball scholarship. Nik played two seasons of hoops before moving to football. He become the third member of his family to be a multi-sport Bulldog student athlete.
Nik played on Bulldog Frontier Conference championship football teams in 2002 and 2004. He was a two time all-conference selection in addition to earning All-American honors as a defensive end his senior season.
His greatest sports memory from that time was beating Carroll twice in Helena and the community support the team received. But, the most memorable moment of his Western years was meeting his wife April.
He closed out his Bulldog athletic career as a student assistant coach. Nik graduated in 2007 with a degree in business education. The Rewerts-Connors was now three generations of Bulldogs, so far.
April Lucier arrived on the Dillon campus from Superior, Montana. She received positive prompting to attend Western from her parents, both Western grads. April saw a promising basketball career end due to health issues. Selected to the Dean's list multiple times, she graduated in 2007 with a degree in secondary education.
Nik and April were married in 2008 and began their professional careers in education that same year in Libby, Mont.
April began teaching art at Libby Middle School followed by a stint in the school's College and Career Department. She is now teaching social studies at Libby High School.
Nik began his profession career teaching fifth grade. He is now the athletic director for Libby Middle School and Libby High School.
He said he has already begun the Montana Western recruiting process for a possible fourth generation of Montana Western students, son Zade and daughter Lakyn.
Now, a sneak preview on a future Family Tree segment. We mentioned in our story about April's mom and dad being Western grads. Well, that family tree goes a little deeper than one generation, but that's another chapter in the Montana Western Family Tree.
A big thank you to the Rewerts family for supplying photos that made the story extra special.
Thank you to Montana Western graphic designer Klaire Kramer for creating an awesome logo!
https://www.facebook.com/UniversityofMontanaWesternAlumni (Facebook Post with photos)