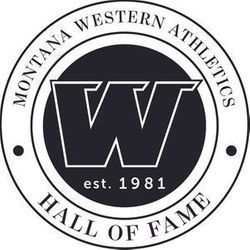 Dr. Janelle Handlos: An alumna of Montana Western, Handlos served as the Interim Athletic Director from 2012-13 and again in 2021. She served as a member of the UMW Athletic Department staff from 2001-15, athletic trainer from 2001-06, and head athletic trainer from 2007-15. Since fall 2015, she has taught full-time in the Health and Human Performance Department and served as Department Chair. Handlos has mentored countless students and student-athletes during her career and is a highly active and supportive member of the Dillon Community. 
Tommy Lee: Serving as head football coach from 2001-06, Lee led the Bulldogs to two Frontier Conference co-championships in 2002 and 2004, advancing to the NAIA playoffs in 2002. He was named the Frontier Conference Coach of the Year in 2002, coached 33 First team All-Conference selections, 36 Second Team All-Conference selections, 65 Academic All-Conference selections, 17 NAIA All-Americans and four NAIA Academic All-Americans. A passionate coach, Lee was instrumental in the mentorship of hundreds of student-athletes during his time at the University of Montana Western. 
Rob Hankins: A standout linebacker for the Bulldogs who was a member of the Bulldog teams that won three straight Frontier Conference titles in 1993, 1994 and 1995, Hankins was named All-Conference in 1995, 1996 and 1997 and was named All-American in 1994 and 1995. Currently, Hankins serves as the Hardin High School principal, a role he has held for the past 12 years and has worked in education at schools throughout the state, including teaching and coaching at Beaverhead County High School in Dillon. 
Becky Kurtz (O'Neil): A two time All-American for the Bulldog Women's Basketball Team, (Honorable Mention in 2005-06 and third team in 2006-07) and member of the Frontier Conference regular season and tournament championship team in 2005-06, Kurtz helped lead the Bulldogs to back-to-back NAIA National Tournament appearances (2005-06 and 2006-07) and was the team co-MVP in 2005-06. She was also a first team All Frontier Conference in 2005-06 and 2006-07, earned Academic All-Conference in 2005-06 and 2006-07, and was named Academic All-American in 2006-07. 
Nick Rewerts: A standout defensive end for Bulldog Football from 2002-2004, Rewerts was a second team All Frontier Conference selection in 2003, a first team All-Conference selection in 2004, and was an Honorable Mention All-American selection in 2004. In 2004, he was ranked in the top 20 in several categories including ninth in the nation in tackles for loss with 20 on the season, 12th in the nation with nine total sacks, 13th in the nation with .8 sacks per game and 14th in the nation with 1.8 tackles per game. The Bulldogs were co-conference champions in 2002 and 2004.   
The Hall of Fame Induction Ceremony and brunch will be held on Saturday, October 1st, 2022, starting at 9 a.m. in the Lewis and Clark room in Mathews Hall on the UMW campus. The brunch is free for ages 5 and below, $10 for ages 6-17 and $20 for adults. To purchase tickets, please contact Kelly Allen in the Montana Western Foundation office at 406-683-7306 or kelly.allen@umwestern.edu. ­­