Beth Weatherby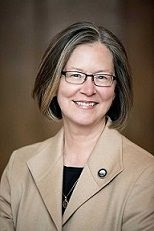 Beth Weatherby became the 22nd chancellor of the University of Montana Western on January, 15, 2015. She and her husband, Steve Kramer, moved to Dillon from Marshall, Minnesota, where they were both faculty members at Southwest Minnesota State University.
After ten years as the director of SMSU's Creative Writing Program, Beth served as Dean of Arts, Letters & Sciences for five years and then as Provost and Vice President of Academic and Student Affairs for eight years.
Beth earned a doctorate of arts in English and Creative Writing from the University of Albany in New York and a bachelor of science degree in journalism from the Medill School of Journalism at Northwestern University in Evanston, Illinois.
She is proud to be the chancellor of Montana Western, which she calls "one of the most unique, innovative and effective universities in the nation." Beth's vision is to secure the future of this university and build upon the success that we have seen with Experience One.