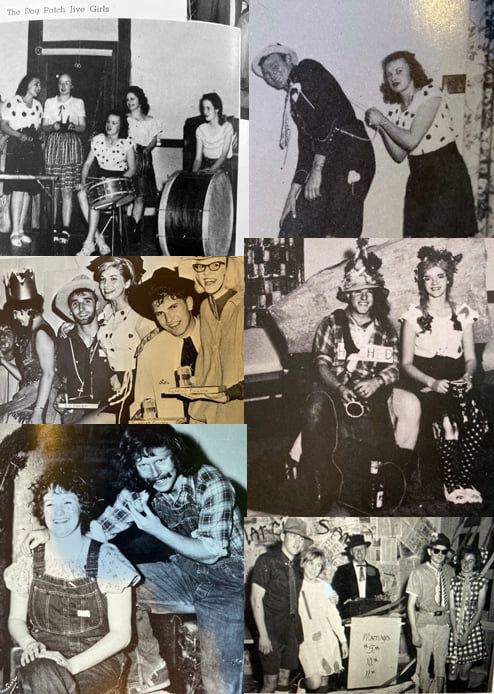 Happy Holidays to all.
On this week's Throwback Thursday, we look at campus life and one of those crazy college student activities which became a tradition, at least for 30 years, give or take a year on first the Montana State Normal School (MSNC) campus and finished when school's name had been changed to Western Montana College (WMC).
Students on the Dillon campus were no different than students from any college in the country. Social activities were just as important as classroom work. But according to The Chronicle of Higher Education, these traditions can also be extremely important coming-of-age experiences. Remember the fall tradition of the Sadie Hawkins Dance?
The concept originated from the classic Al Capp comic strip "Li'l Abner. In a November, 1937 story-line, Sadie Hawkins was a spinster, or so her father thought. He wanted his daughter married and had a day where the single men of Dogpatch ran against Sadie in a foot race, whoever she caught, she would wed. The Dogpatch spinsters liked this idea and it became a yearly event and a popular yearly feature in Capp's comic strip.
Two years after its debut in "Li'l Abner," Sadie Hawkins took on a life of its own. By 1952, there were over 40,000 Sadie Hawkins events across the United States.

"Women and girls take the initiative by inviting the man or boy of their choice out on a date, rare before 1937, typically to a dance attended by other bachelors and their assertive dates," according to a Li'l Abner article.
The Montana State Normal College had their first Sadie Hawkins Dance in 1947, sponsored by Women's Athletic Association (W.A.A.). The Chinook yearbook recited the new event's motto: "Grab your Lil' Abner, all you Daisy Maes, and come to the Sadie Hawkins Day Hop!"
The dance was held in the Rec Hall. In an election during the course of that first evening, Jean Stamm and Jack Lohr were chosen the most typical Daisy Mae and Lil'Abner.
1977 looks to be the last year for a Sadie Hawkins dance on the Western campus. A year earlier than the end of Al Capp's Li'l Abner comic strip across the nation. As part of the 1977 Sadie Hawkins activities, Kelly Flynn, a Bulldog track star, challenged four women to a 440 race. Flynn lost and received a banana cream pie in the face.
Just like freshman beanies, the Sadie Hawkins Dance is another fun campus tradition lost in time. By the photos in yearbooks and by personal experience, a good time was always had by all.
The photo shows a brief history of the Sadie Hawkins dance at Western.
The original post can be found on the University of Montana Western Alumni Facebook Page.