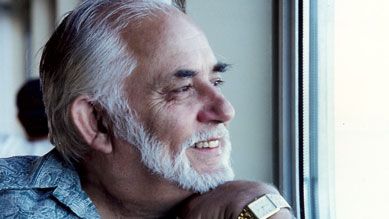 Arlie Albeck
An avid proponent of public education, alumnus Arlie Wirth Albeck made sure to arrange a planned gift to the University of Montana Western Foundation for elementary education scholarships.
Albeck grew up poor in rural eastern Washington and joined the U.S. Coast Guard at age 17. Using his veterans benefits, he graduated from Montana Teachers' College (now Montana Western) with a degree in elementary education. Arlie's teaching career spanned 38 years, ranging from a Hutterite community to over 30 years at Adams Elementary School in Seattle. In addition to his teaching degree, Arlie held Master of Education and Master of Science degrees. He spent summers as an AmeriCorps volunteer with migrant children and as an actor in Seattle Children's Theatre.
He was known to be compassionate. When he learned that his neighbors had dropped their aging dog off at the Humane Society, he adopted the dog the next day. He was also known for his great sense of humor. Like so many outstanding teachers, he was a life-long learner. Among his broad areas of interest were handcrafted log cabin construction without nails, perspective drawing and archaeological digs.
The March 9, 2015 edition of the Seattle Times published four letters submitted by readers on the subject of effective teaching. One started, "My best teacher ever was Arlie Albeck, my fourth-grade teacher in the 1960s. He made us laugh while we learned. His heart was big, his kindness flowed throughout the classroom. Up until that year, I had been quite shy and somewhat reserved. When I left fourth grade, I felt capable and accomplished as a learner. On Teacher Appreciation Day last year I thought about finding [him] to thank him. Sadly, I found he had died the year before."
Albeck remembered the University of Montana Western in his will because he experienced firsthand how education opens doors. It prepared him for a lifetime of work worth doing. His generous gift now opens doors for students at Montana Western, who will in turn help future generations of students.