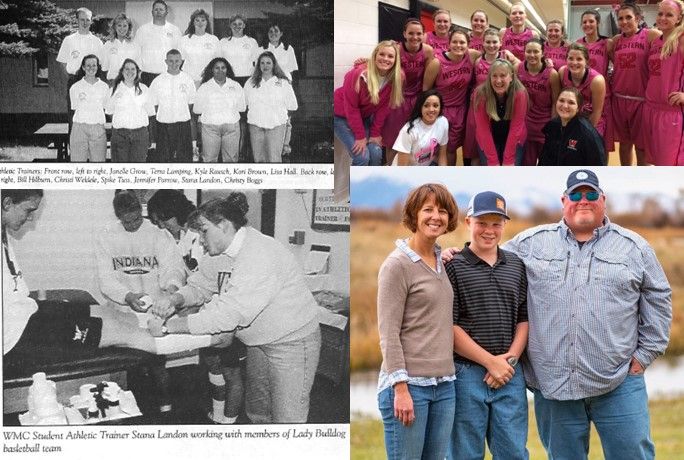 Our Throwback Thursday theme for this month is "Giving Back." Keith and Janelle (Grow) Handlos are both graduates of Montana Western and are both excellent examples of "Giving Back."
"Both of us were given good examples of the benefits of giving back," Janelle said. "For me, Dave Kendall was a great role model. He taught us that you need to give back to your profession and give back to the people you work with. Keith's dad is a health care professional and has given so much for so many years. He's been a great example to Keith on how you care for your community and your people."
When you attend the yearly Pink Zone women's basketball game at Montana Western, you will see a great example of the Handlos family giving back. The Bulldog women wear pink uniforms, donated by Keith and Janelle, in a game that shows support for breast cancer awareness.
Those pink uniforms were donated to the women's basketball team in memory of classmate Stana Landon. Janelle and Stana were graduates of Western's sports medicine program. After graduation, Janelle remained in Dillon and Stana pursued her career elsewhere.
She worked as a certified athletic trainer around the Northwest. She was working on her doctorate when she lost her battle to breast cancer on Nov. 22, 2012. Thanks to the Handlos family, Stana is part of a very special game each year.
Keith and Janelle give back in so many other ways. They are active members of Engine 18, a local non-profit group that raises money to be used for scholarships for Montana Western student-athletes. Janelle serves on the Montana Western scholarship committee. Keith shares his culinary talents in many ways including cooking and serving a barbecue for the senior football hike. He also serves on the committee to raise funds for the Sports & Activities Complex and has served on several other committees on campus.
"It's the idea of the Western family and you take care of your family," Janelle said. "It's time, it's energy and it can be funds but often its other ways of serving and giving. We are both very thankful for what this place has given us and we want others to have the same opportunities."
Pictures; top left picture is of 1998-1999 Western Montana College student athletic training staff. top righte picture is of the Bulldog women's basketball team with Stana's mom Gail Landon at first game pink uniforms were worn. Bottom left picture is Stana at work as WMC athletic trainer. Bottom right picture is the Handlos family.
The original post can be found on the University of Montana Western Alumni Facebook Page.