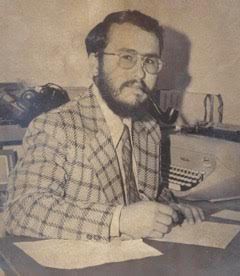 A year ago, we announced Larum's debut novel, "Waltz Against the Sky." He described the novel as one that examines the role of chance and choice in the American West.
Last month, Larum released a new collection of modern western poetry "Leaving Montana." He described this collection as poetry that celebrates the importance of people, time and place.
Larum is currently working on his next novel which is a prequel to "Waltz Against the Sky." His current writing spree is not just way to stay busy during retirement, but something that has forever been in his DNA.
"I was bitten by the writing bug when I was so young I can't remember not wanting to be a writer. I remember writing western pulp fiction in grade school. In junior high, it was sports stories. I was writing science fiction in high school. It was locked in by the time I got to Western.
The first time I chatted with Lee Barker, the on-air announcer at KDBM, I told him, "What I want to be is a writer." I was always saying that in those days, when the imagined future of a dirt-poor ranch kid ran true, a straight line to a best-selling novel and a Pulitzer Prize.
It makes me laugh to think of it now, the first literary conversation I had with a girl at Western. "I want to be a writer," I told her. "I know," she said, dryly. "I've read your stuff. I'm the editor of The Muse."
"How clear it must have been to everybody. A man who offered me a place to stay off-campus once described me to his wife, saying, "It easy to see where he's going. He's gonna be a writer." "I wrote all the time. Short stories. Poems. Longer stories.
Kept a journal. Day-dreamed about writing. "Write a page every day," I kept saying. "At year's end, you'll have a 365-page novel." If it were only that easy. But I did churn out the pages. Finally, after life interrupted, I finished that novel, a novel I couldn't have written as that 20-year old, but it was the book he would have wanted to write.
"Waltz Against the Sky", an examination of choice and chance, has gotten great reviews from some prestigious reviewers. Kirkus Reviews called it one of its top five Debut Indie Fiction Books of 2019. And this year, I published a collection of poetry, "Leaving Montana." It amuses me that a couple of its better poems were published in The Muse."
The original post can be found on the University of Montana Western Alumni Facebook Page.