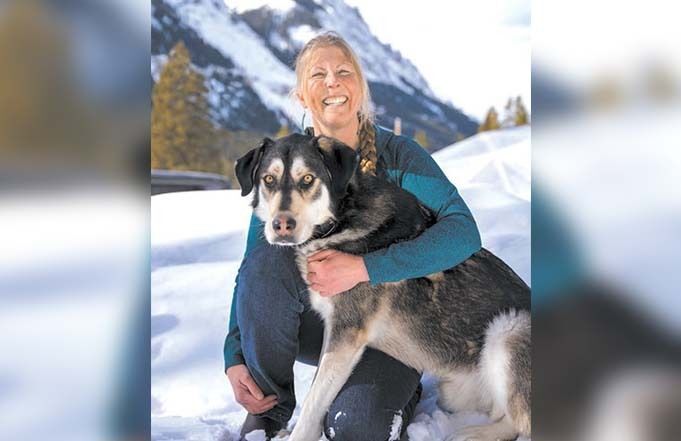 Cooke City School educator, Lara Belice, was named the 2022 Montana Rural Teacher of the Year this spring at the Montana Association of County School Superintendents award ceremony in Lewistown, Montana.
Story by Scott Schindledecker of The Livingston Enterprise, republished with permission, with additional information provided by Lara Belice.
"It's fantastic to be recognized, but I do it with or without recognition," Belice said. "I didn't expect it, that's for sure, but it does add to the everyday reward of seeing the students achieve."
Belice is the lead teacher at Cooke City School, where she has taught for four years.
The one-room school, located 4 miles from the northeast entrance to Yellowstone National Park, serves the K-8 school-age children in the remote mountain community, comprising roughly 100 year-round residents.
Park County Superintendent of Schools, Mollie Waldum, nominated Lara Belice for her dedication to the school and exceptional performance.
"When Lara sees a need, her energy and enthusiasm bring people together," Waldum said. "Lara continually collaborates with local experts and groups to enrich her students' knowledge and experiences. Authors, photographers, artists, biologists and fellow educators have all played a part in Lara's efforts to improve teaching and learning at the school. As a result, the children of Cooke City School are thriving."
Background
Belice is a San Diego native who attended the University of California at Davis. She then started a landscaping business and won three California awards and 16 San Diego County awards for her work. The business grew to include 35 full-time employees.
Belice then moved to the Big Hole Valley in Montana in 2005. In 2014, while traveling in rural China, Belice taught English to Tibetan children at the Waritan Welfare Orphanage School. This experience proved to be life-changing as Belice, upon her return from China, enrolled in the elementary education program at the University of Montana Western in Dillon. She earned her bachelor's degree in 2017 in elementary education K-8 with a literacy minor in K-12.
While in college, Belice did teaching practicums, precursors to student teaching, at Arlee High School on the Flathead Reservation, at Heart Butte Elementary on the Blackfeet Reservation, and at Hawthorne Elementary School in Missoula.
While student teaching, Belice was offered a midyear job at Cayuse Prairie School in the Flathead Valley, where she taught science and social studies to middle school students.
Belice credits the University of Montana Western and the Experience One learning model as one of the key factors that has contributed to her success as a rural educator. 
"Without a doubt, the University of Montana Western and its Experience One model greatly aided my preparation to be a successful rural educator. The block system provides intense learning of the methods and theories of teaching," she said. "Furthermore, the Experience One structure allowed me to have more than a month of field experiences, in various classroom settings across Montana, before I even started student teaching. These rich experiences along with coursework steeped in evidence-based instructional practices helped shape me into the educator I am today."
However, Belice says the most beneficial tool she acquired at Montana Western was the knowledge she gained through UMW's literacy K-12 minor.
"Every rural educator should be equipped with a deeper understanding of how literacy affects student learning and how to implement effective literacy practices, across all learners at all grade levels. I am grateful to Dr. Laura Straus, who encouraged me to pursue a literacy minor and helped to develop this rigorous program of study. Montana Western prepared me well to be a successful rural educator by teaching me the science of reading, how to use data to drive instruction, and the importance of considering the whole child," she said.
Teaching at Cooke City
Belice began teaching in the Cooke City school in 2018. For the first three years, she was the only staff member.
"Success was left entirely up to her, essential daily decisions were hers to make," Waldum wrote in her letter of nomination. "The job requirements of a one-room, multigrade educator far exceed the duties of a teacher in any other standard educational setting. Without a dedicated teacher with an exceptional skill set that reaches well beyond classroom instruction, a rural school may subsist, but not flourish."
Belice said while it's great to teach eight students and give them more personalized attention, there are challenges that one may not anticipate.
"I've had to carry water from the spring outside into the school when the pipes are frozen and finding someone to work on the boiler when it acts up can be a challenge," Belice said.
Cooke City School Board Director, Joelle Passerello, had high words of praise for Belice in her letter supporting the teacher's nomination.
"Before living in Cooke City, my children and I lived in California," Passerello said. "My youngest only attended day care, but my oldest was in the California school system from preschool to the end of first grade. To put it nicely, the system there failed my oldest. Due to his processing disorder, even under good school conditions, he can have a rough time keeping up."
"He was so far behind when he started second grade at Cooke City that he couldn't even read, even though he was being tutored one-on-one. Due to the work, effort and care Lara put into her time with my oldest, he began reading within three months!" Passerello said.
Even enrollment is up at the school, which used to serve four or five students. It now has eight, three with special needs.
"I was fortunate to find a teaching assistant when one of the grandmothers got involved," Belice said. "Managing students in six grade levels also has its challenges."
But Belice said she knows she's in a good place at Cooke City.
"It's a good fit here and it warms my heart working with the kids, giving them opportunities that they may not otherwise have," she said.
Stemming from her time at Montana Western, Belice believes that experiential learning supported with meaningful classroom instruction create impactful learning. From infant to adulthood, Belice traveled with her parents, visiting world-class museums and historical sites. Formal education was extremely important to her parents; however, they also encouraged her and her siblings to engage outside of school with the world around them.
"This is how curiosity is fueled, and I do the same with my students. Since becoming the lead teacher at Cooke City School, I have implemented numerous place-based educational connections to the Greater Yellowstone Area, such as multi-night backpacking outings and nature hikes, ski touring, wildlife viewing with local field experts, as well as visits to historical sites and museums, to engage my diverse group of students in learning that is personally relevant to their lives," she said.
Additionally, Belice achieved the construction of a closed-looped food system at the school, building a 26-foot diameter geodesic dome greenhouse to permit year-round gardening at an elevation of 7,600 feet and installed a composting system to withstand the extreme cold. The students and community contribute compostable waste, which in turn is used to produce vegetables for the school and community, at a location where the nearest grocery store is a one-way drive of an hour and a half.
Next year, Belice is planning a yearlong interdisciplinary study of U.S. history through the lens of bison by incorporating observations with nature-journaling inside Yellowstone National Park with field experts, conducting science, technology, engineering, art and math (STEAM) challenges based on the physiology of bison, and a visit to the museums of Helena and Great Falls to better understand the presence of Indigenous peoples on the landscape for more than 13,000 years, the historic and contemporary Native American connection to bison, and the importance of the prairie ecosystem.
"My students are not wired to learn solely from textbooks. This is how the only teacher at a one-room rural school must teach, by using innovative ways to incorporate the learning standards of eight grade levels across multiple subjects that create powerful learning experiences to engage all learners, transforming the abstract into relatable and retainable information. This is how the transfer of knowledge occurs and how life-long learners are formed," she said.
Along with a cash prize, Belice will be attending the National Rural Education Association conference in Green Bay, Wisconsin this fall and will also participate in the National Rural Teacher of the Year competition.
For more information about Montana Western, degree options, and Experience One, call 877-683-7331 or email admissions@umwestern.edu.