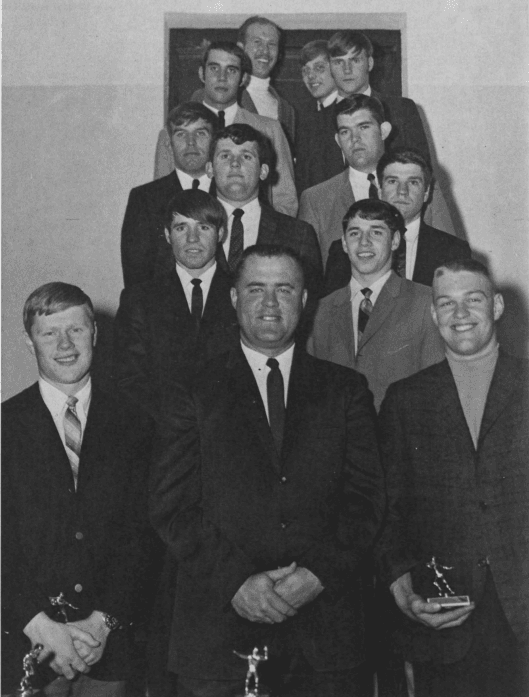 Coach Sonny Holland - Montana State Football legend and former University of Montana Western football coach passed away December 3, 2022 from a courageous battle with Parkinson's disease. Holland was a four-year starter on Butte High's basketball team and thrived in track and field. After high school Holland continued his education at Montana State University where he started as center and linebacker as a freshman for the Bobcat Football team. He led them to their first football national championship in 1956. Holland finished his MSU career with three All-American honors. Years later in 1999, Holland was named "MSU Athlete of the Century". After graduating college and serving a brief stint in the United States Army, Holland taught math and science at Willson Junior High in Bozeman. His coaching career started in 1961 as Bozeman High's offensive line coach. Holland was hired by MSU a year later as the assistant O-line coach, he became the full time O-line coach in 1963. In 1965, Holland took a counseling job at Great Falls High and was hired as the assistant football coach, he quickly moved up to head coach. In 1968, Holland joined the coaching staff at Washington State but soon moved back to Montana where he was hired as the head football coach in 1970 at Western Montana College. He was named Frontier Conference Coach of the Year. Holland finally settled in Bozeman and became the head football coach for the MSU Bobcats. By 1976, Holland was in his sixth season as the most successful head coach in school history, leading MSU to its second national title. He coached the Cats until 1977. Years later Holland was inducted into the Bobcat Athletics Hall of Fame, the Montana Football Hall of Fame and the Butte Sports Hall of Fame.
Don Christensen - Former Montana Western head football coach passed away on November 6, 2022 in Mesa, Arizona. Christensen excelled in many sports and was a highly decorated football star for the Fighting Saints, setting several records that held up for decades, he was dubbed the Scobey Skyrocket. After graduating from Scobey High School, Christensen continued his education at Carroll College where he lettered in football, basketball, and baseball. Christensen received his teaching degree and started his teaching and coaching career in Broadus, Montana. He then moved to Billings and became the head football and wrestling coach at Billings Central, winning several state titles in both sports. After building the success at Central, Christensen moved to Kalispell to coach football and won another state title. Christensen was quickly hired on as the Offensive Coordinator by head coach Sonny Holland for the MSU Bobcats. During his time with the Cats, they won 2 Big Sky Conference titles and a National Championship in 1976. Christensen soon found himself at New Mexico State where he was the assistant coach for four years. He later returned to Montana to finish his coaching career at Western Montana College. He was the head football coach for the Bulldogs from 1981-1986. During his 30 years of coaching, Christensen won many state and conference championships in football and wrestling. He was also Class A Coach of the Year in 1968, and Class AA Coach of the Year in 1970. In 1969, Christensen was Elks Coach of the Year and Frontier Coach of the Year in 1982.
Donald "Keith" Gosnell passed away on November 16, 2022. Gosnell's higher education path started at the University of California in Los Angeles before transferring to Sacramento State. In 1967 Keith earned a master's degree in English from the University of the Pacific in Stockton, California. After receiving his degree, Gosnell along with his wife, Susan and daughter Katherine, moved to Dillon, Montana. Western Montana College is where Gosnell was hired as an Associate Professor of English and where his 20-year teaching career began. Gosnell was a professor of British Literature and a Chaucer Scholar. Gosnell retired from teaching in 1987 with the recognition of Professor Emeritus of English at WMC, a great honor.