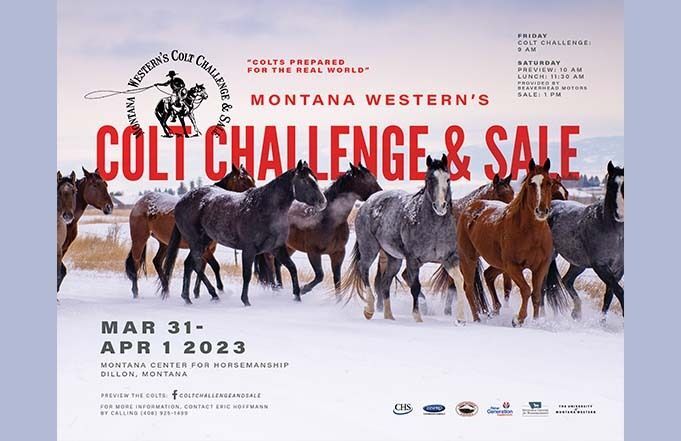 Students and colts compete in a series of events that demonstrate their wide range of abilities on the first day, and the following day, a public auction features the colts for sale, with all proceeds reinvested in the program in order to provide scholarships to Natural Horsemanship majors at the University of Montana Western.
Schedule of Events:
Friday, March 31st
Colt Challenge: 9:00 a.m.
Saturday, April 1st
Preview: 10:00 a.m.
Lunch: 11:30 a.m.
Sale: 1:00 p.m.
Each colt receives approximately 90 days of Natural Horsemanship training from equine students in the Natural Horsemanship/Equine Studies Bachelor of Science Degree program at Montana Western, under the guidance and leadership of the MCH Natural Horsemanship instructors. This year's event will showcase 22 best-bred colts donated by some of the finest ranches in the region.
The young horses are familiarized with all settings inside and out, including enclosed areas and riding outdoors on the area's many trails and in the surrounding mountains. They are also exposed to a variety of situations including working with cattle and ropes, loading and unloading from trailers, and many other scenarios a horse and rider might encounter in ranch-work or recreational riding. Simultaneously, both students and instructors develop an in-depth feel for each horse, enabling them to accurately convey this knowledge to potential buyers.
The horses and students are featured on Facebook leading up to the main event with information about the colts including their color, conformation, personalities, and skills. More information about the 2023 Colt Challenge and Sale, including the sale catalog, will be available on the University of Montana Western website as the event approaches.
Those interested in attending the auction can do so in person, online, or by phone. To bid online, participants must pre-register at least one day prior to the sale. To pre-register, please visit bid.northernlivestockvideo.com and click "Get Approved to Bid." Participants can then bid online via desktop by visiting www.northernlivestockvideo.com the day of the sale or by downloading the Northern Livestock Auction mobile app.
To bid by phone, pre-register by calling Northern Livestock Video Auction at 866-616-5035 before the sale day to obtain a bid number. Bidders can then phone in the day of the sale by calling 406-245-0889.
The sale order will be posted on Friday, March 31 by 5:00 p.m. on the Montana Western Colt Challenge and Sale website and Facebook page.
The Annual Colt Challenge and Sale corporate sponsors include CHS Inc., New Generation Supplements, Rocky Mountain Supply, and Zinpro Performance Minerals in partnership with the University of Montana Western and the Montana Center for Horsemanship. Saturday's complimentary lunch is sponsored by Beaverhead Motors. We wish to thank our sponsors for their generous support of the event and the students in the program.
The Equine Studies Department at the University of Montana Western offers the nation's only Bachelor of Science degree in Natural Horsemanship with options in management, psychology, science and instruction, and was ranked among the "Best Equestrian Colleges" by ThoughtCo.com.
The Montana Center for Horsemanship is the first and only equine center in the United States that is devoted expressly to promoting 'Natural Horsemanship.' With its stables, arenas, riding areas, and instructors, the center serves as the primary facility and progressive teaching resource for Montana Western's Natural Horsemanship BS curriculum.
The MCH teaches the 'La Cense Method,' which was developed under William Kriegel, owner of La Cense Montana and Haras de la Cense in France. Mr. Kriegel is also co-founder of MCH, and he has been involved in Natural Horsemanship for many years. The La Cense Method is a progressive, step-by-step process that blends the best of traditional horsemanship training with the art of training and riding horses—all in a manner that works with a horse's behavior, instincts, and personality. Taking a positive and respectful approach, the La Cense Method gradually builds trust, and frees the horses to be confident in all they are asked to perform.
For more information about the Colt Challenge and Sale, please contact Head Natural Horsemanship Instructor, Eric Hoffmann, by email at eric.hoffmann@umwestern.edu or call 406-925-1499.