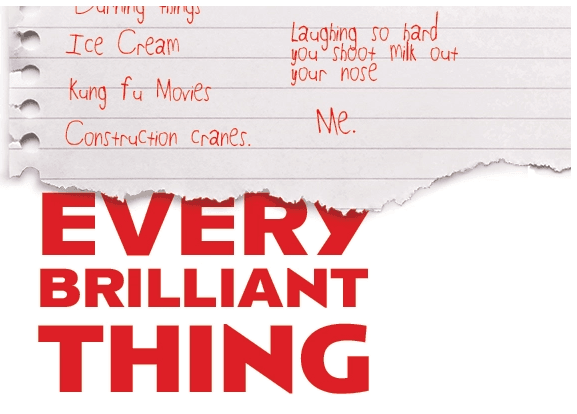 After completing a successful and moving 44-city tour of Montana in the summer and fall of 2019, theater artists Rosie Seitz Ayers and Ryan Eggensperger are bringing back their anti-suicide production, playwright Duncan MacMillan's "Every Brilliant Thing", in an effort to make suicide prevention and awareness accessible and engaging to the students of Montana's middle and high schools.
THE STORY: You're six years old. Mum's in hospital. Dad says she's "done something stupid." She finds it hard to be happy. So you start to make a list of everything that's brilliant about the world. Everything that's worth living for. 1. Ice cream. 2. Kung Fu movies. 3. Burning things. 4. Laughing so hard you shoot milk out your nose. 5. Construction cranes. 6. Me. You leave it on her pillow. You know she's read it because she's corrected your spelling. Soon, the list will take on a life of its own. A play about depression and the lengths we will go to for those we love.
Performances will be held at the University of Montana Western's Beier Auditorium located in Main Hall. Evening shows will begin at 7:30 p.m. Friday through Sunday with matinee shows available at 2:30 p.m. Saturday and Sunday.
A special free of charge matinee showing will be held Friday, February 10 at 1:00 p.m. for all junior high and high school students in Dillon and the surrounding areas. This show will be free for all students and educators. Please contact stephen.seder@umwestern.edu to reserve seats for your class.
In addition to the performances, there will be a pre-show sequence of poetry and artwork highlighting mental health awareness exhibited on stage and in the lobby with a mental health clinician and/or a UMW peer educator present to offer support at each performance.
To purchase tickets, please visit the BOC Performing Arts Series Box Office webpage: www.umwestern.edu/bank-of-commerce-performing-arts-series/box-office/. Tickets are $15 for general admission, $10 for senior, youth, and military, and free for UMW students who present their Bulldog Cards. Concessions will also be available for purchase (cash only).
For more information on "Every Brilliant Thing" and all shows in the BOC series, visit www.umwestern.edu/bank-of-commerce-performing-arts-series/ or contact Adjunct Assistant Professor of Theatre, Stephen Seder: stephen.seder@umwestern.edu or 406-683-7038.