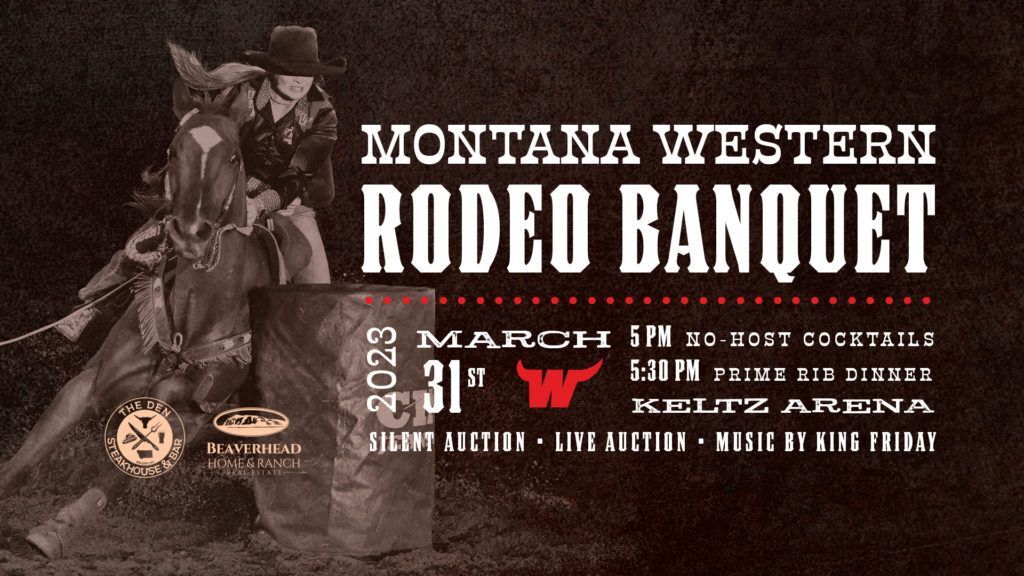 "Families like the Gaasch's are vital to Montana Western Rodeo's success. They don't think twice about helping out, and I'm so grateful for their generosity. We wouldn't exist without supporters like them," said Robbins.
The family's passion for Montana Western Rodeo started when Ryan competed in steer wrestling on the UMW rodeo team in the late 90s. Lindsay played basketball for the Bulldogs and graduated from UMW in 2000. Currently, Ryan is the manager of the Diamond O Ranch while Lindsay manages and is part-owner of The Den Steakhouse. The Den also supports Montana Western Rodeo by hosting the Calcutta fundraiser during the fall college rodeo each year and donates all proceeds from the beverage sales during the Rodeo Banquet back to the program.
Andy and Anna Belle both attended Western Montana College in the late 60s and are long-standing supporters of the Dillon community. For several years, Anna Belle volunteered her time by managing the banquet's silent auction. They continue to support rodeo at the junior high and high school level, traveling across Montana to watch their grandkids, Murphy, Ryder and Piper compete.
"We haven't missed a rodeo yet!" said Anna Belle.

The Rodeo Banquet is the largest fundraiser that the UMW rodeo team hosts each year and provides student scholarships, practice opportunities, defrays team travel and lodging costs, and supports the Montana Western home college rodeo each fall.
2021 WPRA Announcer of the Year, Will Rasmussen, will be emceeing this year's event. Rasmussen grew up in Choteau, Montana, raising horses and cattle on his family's ranch just outside of town. His family, known to many as the "Rodeoing Rasmussens" has played an integral part in his experiences in both the rodeo world and as a professional announcer.
The event begins at 5:00 p.m. on Friday, March 31st in the Keltz Arena and ticket prices are as follows:
Single ticket – $60
Couples ticket – $110
Reserved table of 8 (rows 1-4) – $500
Reserved table of 8 (rows 5-8) – $400
The program is thankful for the support the Dillon and surrounding communities provide each year to all UMW rodeo student-athletes.
Tickets can be purchased by contacting Kelly Allen in the UMW Foundation Office: 406-683-7306 or kelly.allen@umwestern.edu.
For sponsorship opportunities or to donate to the silent or live auctions, please contact Jolene Robbins: 406-683-7303 or jjolene.robbins@umwestern.edu.