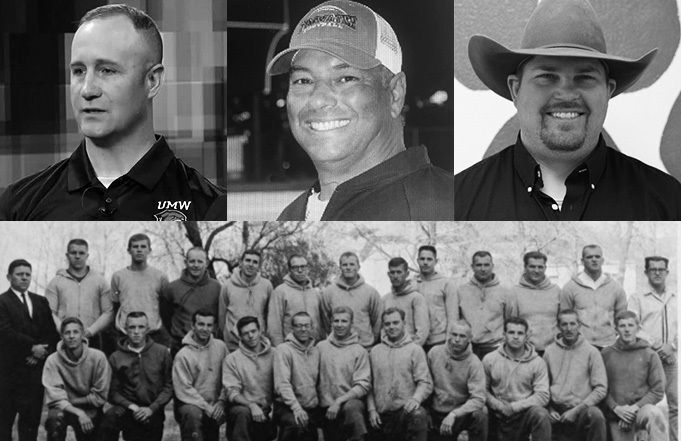 A no-host social will begin at 4:30 p.m. followed by a buffet dinner to open at 5:00 p.m. The cost of the dinner is $20 for adults, $15 for ages 6-17, and free for ages five and below. Tickets for the Hall of Fame dinner can be purchased online at https://tinyurl.com/UMW-HOF2023 or by calling 406-683-7306.
The University of Montana Western is honored to celebrate the induction of the following athletes into the Bulldog Athletics Hall of Fame:
Trent Gibson
Trent Gibson, a standout linebacker, was a member of the Bulldog Football team that won several Frontier Conference titles and made the National semi-finals in 1995. Trent was named First Team All-Conference and All-American during his time at Montana Western. In 1995, after completing basic training, Trent enlisted in the Montana Army National Guard and was deployed to Operation Iraqi Freedom in 2005. He graduated from UMW in 1999 with a BA in Environmental Science and continued his education at Western Governor's University, receiving a Master of Science in Educational Leadership & Administration in 2014. Trent currently serves as Brigade Commander of the 1889th Regional Support Group and recently graduated from U.S. Army War College at Carlisle, Pennsylvania. In 2018, Trent became the Director of the Montana Youth Challenge Program where he continues to make an impact on the UMW campus.
Paul Snow
Paul Snow played for coach Bob Beers and the Bulldog Football team from 1994 to 1996 where they would win back-to-back Frontier Conference Champion titles. Throughout his football career at Montana Western, Paul was named Second Team All-Conference, First Team All-Conference, Honorable Mention All-American, and Second Team All-American. After graduating with a BA in business, Paul went on to play semi-pro football for the East Side Hawks in Kirkland, Washington where he was part of the 2004 Semi-Pro National Championship team. Paul currently lives in Rochester, Washington and works for the Department of Transportation. His favorite football memory is beating Montana Tech the day after his son was born.
Wyatt Smith
Wyatt Smith was a student rodeo athlete at the University of Montana Western from 2007 to 2010. During his time at Montana Western, he earned the title of Big Sky Region saddle bronc champion and all-around champion. He went on to qualify for the CNFR four times in bronc riding and steer wrestling. In 2009, Wyatt clinched the National Steer Wrestling title and all-around title at the CNFR, a testament to his versatility and dedication. After graduation, Wyatt went on to compete professionally as a steer wrestler and qualified for the National Finals Rodeo in 2014. Today, Wyatt has turned his passion into a purpose and currently serves as the women's head rodeo coach and the assistant men's coach at Clarendon College in Clarendon, Texas.
1966-67 Men's Track Team
The Western Montana College Track teams of 1966 and 1967 won two consecutive Frontier Conference Championships led by head coach, Cecil Kent. At the District Five NAIA track and field meet, Western placed first in 9 of the 16 events. New records were set by standout athletes Wayne McEwen in the shot put and Ken Walt in the discus. The "Salmon Whiz," Fred Snook, rewrote the school, conference, and NAIA record books with his impressive performance in the 330-yard hurdles. The mile relay team consisting of Fred Snook, Jack Filcher, Gary Youngquist, and Bill Hiner went undefeated all season. Montana Western thanks this team for their contributions to the college and is proud to recognize their accomplishments and enduring legacy.
To stay connected with Montana Western Alumni & Friends, please call Special Events and Alumni Coordinator, Jolene Robbins, at 406-683-7303 or visit https://www.umwfoundation.org/alumni-friends/ to join our mailing list, connect on social media, and view upcoming UMW events and announcements.