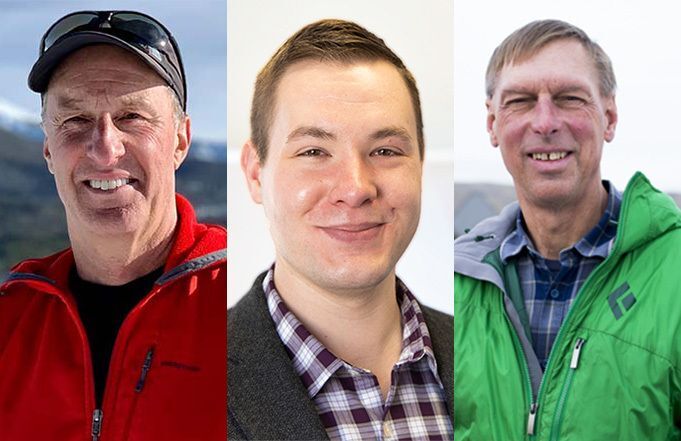 "I am continually impressed by the high caliber and passion for experiential learning and volunteer service demonstrated by members of our university community, and I'm proud to congratulate them on their accomplishments," said Montana Western Provost and Vice Chancellor for Academic Affairs, Dr. Johnny MacLean.
Dr. Rob Thomas: Distinguished Achievement in the Earth Sciences Award from the American Federation of Mineralogical Societies
Regents Professor of Geology, Dr. Rob Thomas, recently accepted a national award from the American Federation of Mineralogical Societies for his "distinguished achievement in the Earth Sciences."
As an educator and advocate for making geological information accessible and relatable to the public, Dr. Thomas has authored several publications, including "Roadside Geology of Yellowstone Country" and "Roadside Geology of Montana" and manages the popular Facebook group, "Montana Geology" which has over 14,000 followers.
As part of the award, Dr. Thomas was invited to pick two students currently attending graduate school to receive a $4,000 scholarship to support their academic journeys.
"I chose Michael Gary, currently attending Montana Tech, and Kori Mooney, a graduate of our program now working on her master's degree in geoscience at the University of Wyoming," said Dr. Thomas.
Dr. Mitchell Stephenson: Northern Michigan University's Outstanding Young Alumni Award
Associate Professor of Health and Human Performance, Dr. Mitchell Stephenson, was recently awarded Northern Michigan University's Outstanding Young Alumni Award.
First presented in 1964, the NMU Alumni Awards celebrate the personal and professional achievements of NMU alumni who distinguish themselves through exceptional contributions to their profession, community, and society.
A 2013 graduate of NMU, Dr. Stephenson applies experiential teaching approaches to his courses at UMW and fosters immersive learning environments where students apply real-world research techniques. In addition to teaching, Dr. Stephenson is a certified strength and conditioning specialist and conducts government-sponsored biomechanics research focused on methods to improve human performance and reduce injury rates.
Dr. Steve Mock: NPS Outstanding Volunteer Service Award & Manchester University's Alumni Honor Award
Dr. Steve Mock, Professor Emeritus of Chemistry, recently received the National Park Service's George and Helen Hartzog Award for Outstanding Volunteer Service for his excellence in service as a Denali National Park mountaineering ranger in Alaska.
According to the NPS website, Denali National Park mountaineering rangers recruit world class volunteers with technical rescue, emergency medical, and mountaineering skills to staff patrols on North America's highest peak. These skilled rescue teams respond to 20+ search and rescues annually on Denali. Dr. Mock's impressive skillset has made him a standout on six patrols since 2014. In 2022, he stepped in to help a short-staffed ranger crew. With high confidence in his professionalism and knowledge, he enabled rangers to focus on rescue response. In late May, he again helped bridge the gap created by several vacancies by leading a basecamp patrol during the busiest week of the season. His patrol provided emergency medical care, coordinated rescue flights from the glacier landing strip, and helped educate climbers on mountain protocols. Dr. Mock also serves as board president of the Denali Rescue Volunteers non-profit organization.
In honor of Dr. Mock's role in UMW's transition to block scheduling, his work in Nepal with the Khumbu Climbing Center, and his volunteer service in Denali National Park, Dr. Mock will also be presented with the Manchester University Alumni Honor Award during MU's 2023 Homecoming celebration. In 1960, the MU Alumni Association began presenting the Alumni Honor Award, the highest recognition the Alumni Association can bestow on a graduate of Manchester University.