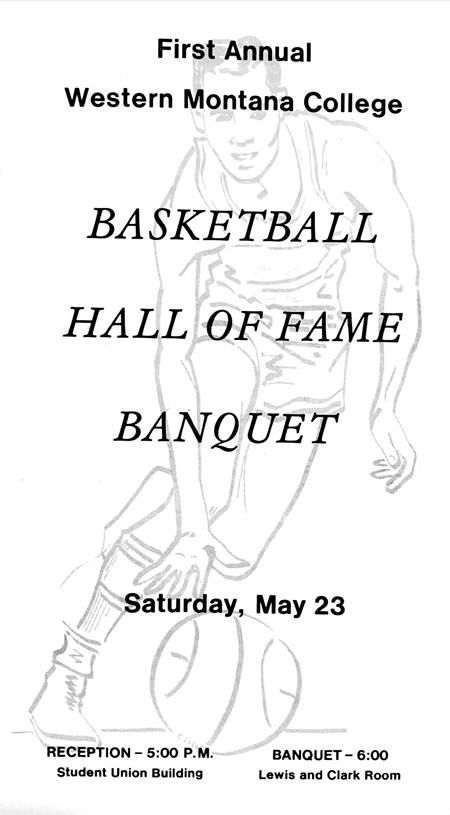 The Class of 2019 will be inducted into the University of Montana Western Athletics Hall of Fame on Saturday, Sept. 28 as part of the 2019 Homecoming and Alumni Weekend.
The Montana Western Athletics Hall of Fame made its debut on Saturday, May 23, 1981 with a banquet in the Lewis and Clark Room. The inaugural class contained strictly men's basketball inductees.
The Hall of Fame was conceived by the Western Montana College Alumni Association as an annual event to honor former players, coaches and managers who made outstanding contributions to Bulldog athletics. An additional category for meritorious service was also added.
The Hall of Fame selection committee included Ray Lynch, mayor of Dillon; businessmen Ted Hazelbaker and Chuck Davis, and Dillon educator Dick Jonasen. From Western; English professor Ed Cebull, director of information Chuck Stauffer and retired coach and athletic director Bill Straugh.
The first class was a large one and included George Aitken, Walt Anderson, Shy Callaghan, Gary Cooper, Bob Howard, Ken R. Jenkins, Casey Keltz, John McMahon, Maier Miller, George Nelson, Emory 'Moose' Rouse, Jerry Selvig, Ray Scott, Bill Straugh, Dale Tash and Jess Wetzel. H.L. (Hobart) Sneed received the Meritorious Service Award.
One year later, the Hall of Fame was dominated by football with 14 former Bulldog gridiron greats being inducted. Now, 38 years later, all sports from the past and present of the Montana Western athletic department are represented in the Hall of Fame.
In 2019, the Hall of Fame Room opened on the second floor of the Bulldog Athletic and Recreation Center (BARC). The room overlooks the Straugh Gymnasium.
The 2019 class includes Katherine Sunwall in women's basketball and volleyball, Katie Stokes in volleyball, Willis Taylor and Eric Zahler in football and Jarrett Monroe in rodeo. Induction ceremonies are scheduled for Saturday, Sept. 28 at 9 a.m. with a brunch in the Lewis and Clark Room of Mathews Hall.
The Hall of Fame ceremonies are full of laughter and tears, but most of all, great memories. This is a great weekend to return to the Western campus and reconnect with friends and see how far the Montana Western community has grown.
http://tinyurl.com/bulldogHOF2019
As we get closer to the 2019 ceremonies, we will take a closer look at the 2019 inductees.
The original post can be found on the University of Montana Western Alumni Facebook Page.