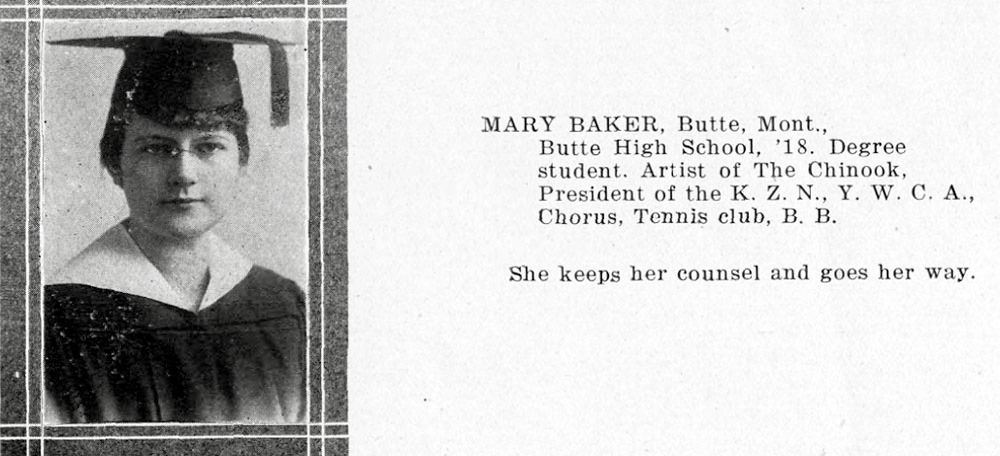 Due to the COVID-19 pandemic and quarantine, the 382 graduates of the class of 2020 of the University of Montana Western will receive their diplomas in a virtual ceremony this Saturday (May 9) beginning at 9 a.m.
Let's step back 100 years for the 23rd commencement of the Montana State Normal College (MSNC) held Tuesday, May 22, 1920. There were 53 graduates in that graduating class.
The class included two men and 51 women. Only 30 graduates went through this ceremony with the rest graduating in August.
The majority of the graduates came from Montana along with one from Idaho, one from Colorado, one from Missouri and one from Ohio.
One member of the Class of 1920 was Mary Baker from Butte, Mont. She went from MSNC student to MSNC/Western Montana College faculty member with over 50 years tenure. Her legacy lives on each year with her Mary Baker Emerick art scholarship.
The official senior class colors were royal blue and gold. The Class of 1920's motto was "Our Aim Success, Our Hope to Win. There was also a a senior class will, prophecy, class history and the class flower was the Golden Glow.
The MSNC Class of 1920 even had a class baby, Ralph Howard Light, the six-month old son of Lee R. Light, professor of rural methods.
The 1920 commencement activities began Saturday evening with an alumni banquet held at the Sugar Bowl Cafe (12 S. Idaho). On Senior Sunday, "graduating seniors were accorded customary honors throughout the day in dormitories." (this is a quote from the Dillon Examiner newspaper)
There was a Sunday baccalaureate service at 3 p.m. and vesper services in front of one of the dormitories at 7 p.m. The vesper services speeches were given by MSNC president Sheldon Davis and Reverend Bennet of the Dillon Episcopal church.
Monday activities included the graduating class giving their class day program at 8:30 p.m. in the auditorium.
Commencement exercises began Tuesday evening at 8:30 in the auditorium. The commencement address was given by the Reverend Leo J. Christler of Havre, Mont. Chancellor Edward C. Elliot presented the diplomas.
Fast-forward to 2020. A pandemic has forced Montana Western into online learning for what was left of the past semester and a virtual commencement.
We can send our congratulations to the Montana Western Class of 2020 by making congratulation noise at 11 a.m. this Saturday, May 9 by "Barking for Bulldogs."
You can participate by stepping outside wherever you are, and clap, cheer or making noise any way you want in support of all Bulldog graduates. I myself am going to use an Olie red rodeo cowbell!
Congratulations to the Montana Western Class of 2020!
The original post can be found on the University of Montana Western Alumni Facebook Page.