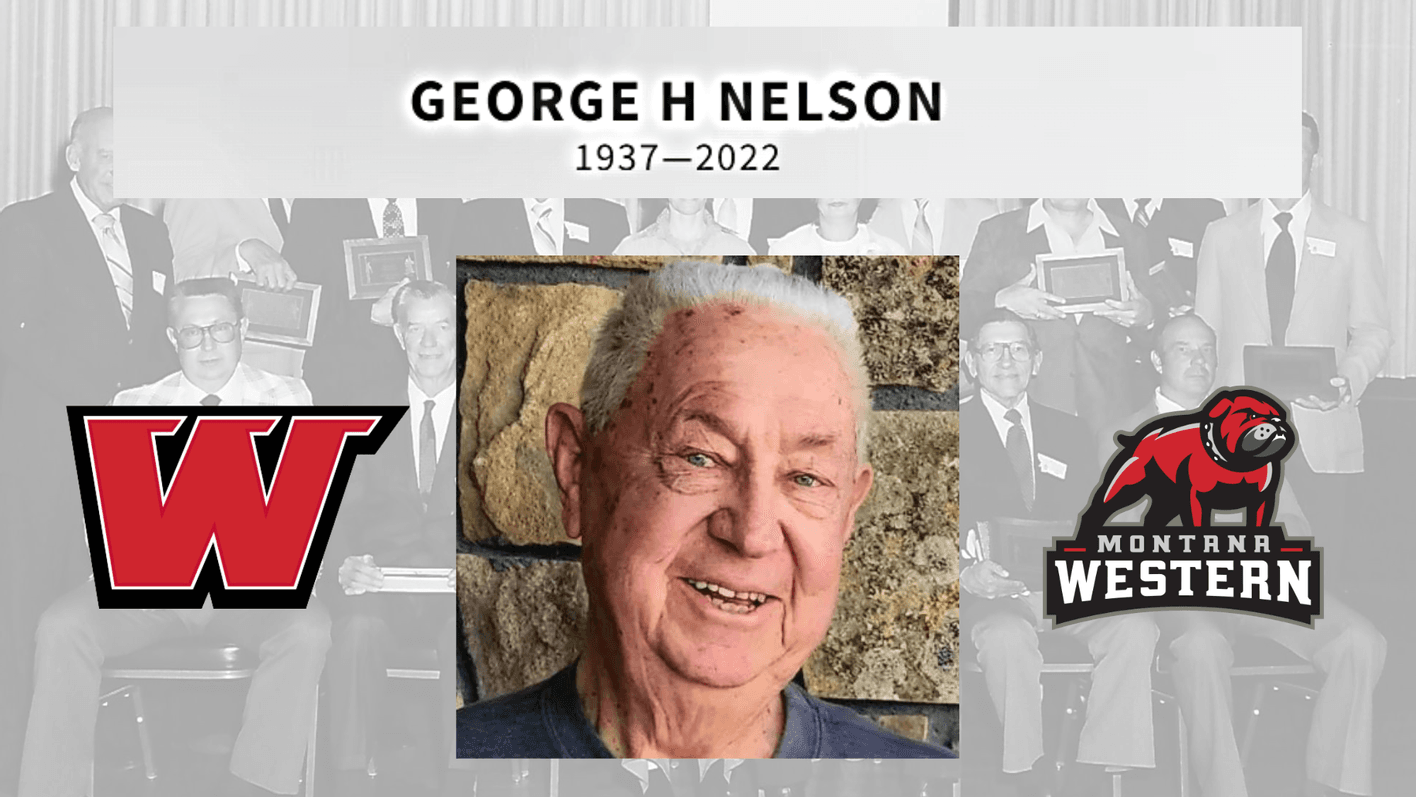 George Harold Nelson was born on Jan. 31, 1937, to parents Harry and Susie Nelson. He had three brothers — Louie, Howard, and Robert — and one sister, Virginia (Ginger Brue). George grew up in Livingston, Montana, at the heart of a loving family. He was always active in athletics, and his passion for basketball kindled early. After a distinguished career at Park County High School in Livingston, he brought his basketball show to Dillon's Western Montana College — and didn't slow down a bit.
George earned all-conference honors for three straight seasons. He played on basketball teams that either won conference titles or tied for them. The Bulldogs made regular trips to the national tournament during his playing days. As a senior, he was voted the league's most valuable player. His four years on the court remain the most successful span in Western's basketball history, and in 1981, he was inducted into the first Bulldog Athletic Hall of Fame class.

George earned a Bachelor of Science in Education from Western in 1960. After serving six years in the Army National Guard and simultaneously teaching and coaching in Conrad, Rudyard, and Shelby, he returned to Western to pursue his Master's in Education. He helped coach the 1967 Montana Western baseball team to victory in the Frontier Conference Championship while earning his master's. In 2021, Western inducted him into its Hall of Fame along with the team.

After graduation, George served as athletic director and head coach of all sports at Belgrade High School. His seven-year, star-studded coaching career there included achieving a 60-11 overall football record, six district titles, three divisional trophies, and a victory in the 1973 Class B State Championship. He was named Class B Coach of the Year by the Montana Coaches' Association for his football prowess in 1972 and 1973, and for his basketball expertise in 1973 and 1974.

He returned to Western in 1974 as head football coach. That same year, he was selected as the head coach for the Shrine Football Game. His six-year Bulldog coaching career included a 1977 Frontier Conference Championship and a Frontier Conference Coach of the Year award. During his tenure as head football coach, George served one term as president of the Frontier Conference and one term as vice-president of the Montana Education Association unit at Western. In 2013, he was inducted into the University of Montana Western Hall of Fame for coaching the 1977 football team.

George retired from coaching in 1980 and worked as the director of the Western Montana College Alumni Association until 1986. Under his leadership, the association created the Western Montana College Athletic Hall of Fame. The final line of George's Western resume was his post as director of student teaching and placement. He served in that position until his retirement in 1996.

The friendships George made during his years of coaching and teaching were deep and meaningful. In the same years he formed lasting bonds with his mentors, players, and peers, he also built a family. George married Ellen McCracken on May 29, 1963. They were blessed with two children, Randal and Linda, and five granddaughters: Kalli, Kelsey, Alexandra, Madison, and Mackenzie. Ellen was the love of George's life for nearly 60 years, and their children and grandchildren added a dash of spice to those days together.

Of course, anyone who knew George could see he had a zest for life all his own. He was a perennial class clown, always ready with a prank, pun, or witty comment. As Ellen puts it, "George was born to enjoy life — and he made sure everybody nearby enjoyed it with him." When he wasn't finding humor in unlikely places, George stayed busy exploring the back roads of Montana, feeding moose and deer from the deck of his hand-built cabin in Polaris, and cheering on his children and grandchildren at their many sporting events. Through them, he shared his passion for athletics with future generations.

George passed away on Sunday, Oct. 16, at his home in Dillon. He led a long, loving, and accomplished life of 85 years. He is survived by his brother, Robert, his wife, Ellen, and their cherished children and grandchildren.