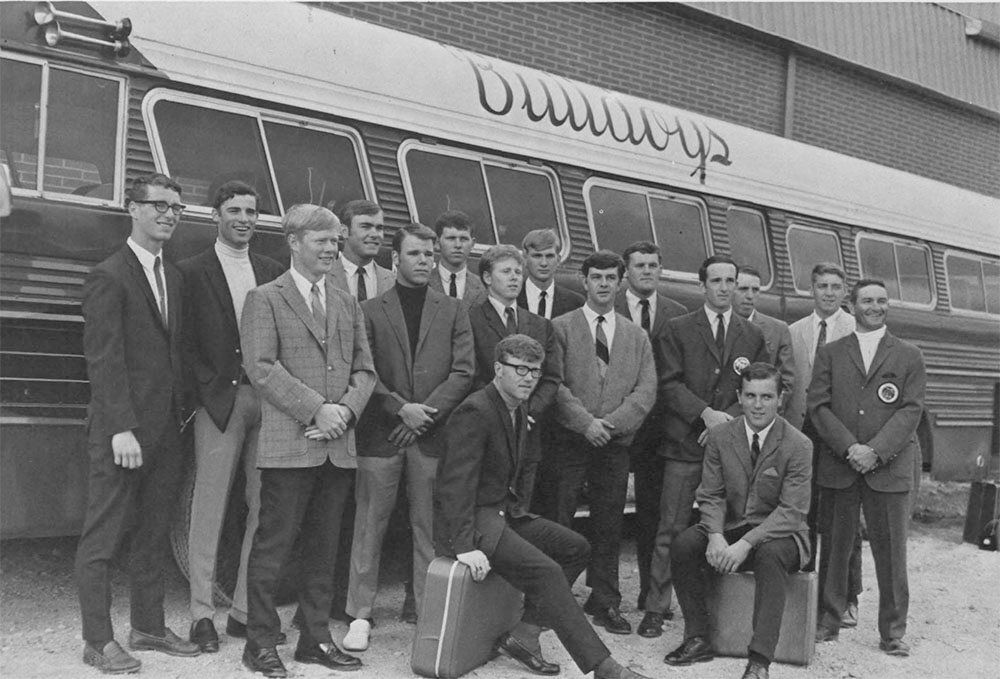 The sub headline was even more of an attention getter! Western Dominates Frontier League in Five Major Sports!
Okay, my curiosity was peaked! I knew that Bulldog athletic programs had enjoyed much success in the 1960's but it was worth the look and it was all laid out for me. This success was not in an academic year but in a calendar year.
"Western Montana College has indelibly stamped 1969 as "The Year of the Bulldog" with a series of athletic accomplishments unparalleled in the school's 77-year history." How's that for an opening sentence!
1969's 'athletic accomplishments' tipped off with Casey Keltz, in his first year as Bulldog men's basketball coach, winning the Frontier Conference and NAIA District title. The Bulldogs swept Northern Montana College for the district title and a berth in the NAIA national tournament in Kansas City, Mo.
Three future Hall of Famers, Gary Jacobson, Clay Robinson and Gary Warhank earned all-conference honors. Keltz won his first basketball Coach of the Year Award. He had already earned a football conference Coach of the Year plaque in football in 1967.
In later years, he would track and field Coach of the Year honors. Keltz was later inducted into the Bulldog Hall of Fame as both a student-athlete and a coach.
The Bulldog track and field team won the 1969 Frontier Conference title and the District Five title in dominating fashion. Seven Bulldogs qualified for the NAIA Track and Field Championships in Billings, Mont.
Qualifying for the national meet were Charlie Hall, Courtney Taylor, Don Youngquist, Wayne McEwen, Hiram Williams, Tom Hoover and Bob Pemberton. Clyde Carpino and Larry Johnson were co-head coaches.
The Bulldog baseball team almost equaled the success of the track team. Coached by Bob Jesse, the Bulldogs were co-Frontier Conference champs with Rocky Mountain College
WMC routed Rocky 9-3 in the NAIA, District Five title game and advanced to the NAIA regional title in Medford, Ore. Western's season ended in the regional playoffs with two losses.
Pitcher Don Campbell, third baseman Bob Weldon, shortstop Jim Lodge and third baseman John Thatcher earned first team all-conference honors. Campbell was a perfect 6-0 in league play and boasted a 0.93 earned run average.
We haven't really chatted much about Bulldog golf, but it was part of that dominating 1969 year. Bill Martin, a senior from Florence, Mont. was the captain and won medalist honors at the NAIA, District Five championship to qualify for the NAIA national tournament in Fort Worth, Texas.
Martin shot a 160 on a cold and rainy 36-hole tourney. His individual golf trophy was added to the collection of honors gathered by the 1969 Bulldogs. Western's golfers were coached by professor Henry Stish. Sadly, other than a badly scanned photo from a digitized version of the Dillon Tribune, I couldn't dig up any photos of Bill. Maybe he was camera shy.
The final piece of the Year of the Bulldog, was the 1969 Bulldog Frontier Conference football championship. Western opened the season with a 28-13 loss to Ricks College but that was the only Bulldog loss. After that opening season loss, WMC won seven straight including an unbeaten conference record. Eleven Bulldogs earned first team all-conference honors.
On offense, Dennis Renning and John Thatcher at end, Ron Lehnerz at running back, Jim Lodge at quarterback and Jim Harding at tackle. On defense, Steve Quilling at tackle, Earl Doege at end, Bob Crawford at linebacker, Bill Posivio at middle guard, and Tom Hoover and Chuck Lucero at defensive back. Freshman Harry Egan earned honorable honors at offensive center.
Head coach Sonny Holland was named Coach of the Year and Crawford was Frontier Player of the Year. The Bulldogs scored 238 points while giving up only 78.
1969, the Year of the Bulldog! Athletic Director Bill Straugh summed the year up with one sentence.
"There is no question about it, this has been our finest year!"
Here's a Throwback Thursday fun fact. From 1959 to 1969 the student population at Western Montana College doubled and then some in size. From 487 students in 1959 to 1,072 students in 1969!