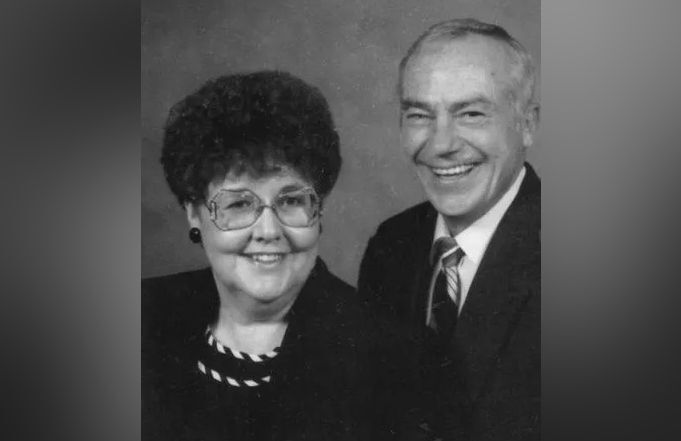 Established in 2021 by Randy, Stephanie, and Michelle Gerringa, the scholarship honors their mother, Clara, and their late father, Bob. The award is gifted annually to a Montana Western student majoring in education.
"My sisters and I all graduated from Montana Western and felt it was important to help others while also honoring our parents for all their years of commitment to the college and the Dillon community," said Randy Gerringa.
Bob Gerringa was raised in Eastern Montana and was a standout basketball player at Shepherd High School. After graduation, he was employed as a salesman by Sampsel Sales of Billings, Montana. In 1956, Bob entered the Army and was stationed at Fort Lewis and Camp Hanford in Washington until his honorable discharge.
In 1958, he returned to Billings and worked for Valley Motor Supply, transferring to Dillon in 1961 where he managed the Valley Motor Supply/Carquest Store until his retirement in 1992. Bob was an active member of the Dillon Jaycees, serving in various positions including President and JCI Senator and received the prestigious Outstanding Young Man Award. He also participated in many other organizations including Dillon Elks Lodge 1554, Masonic Lodge, Baghdad Shriners, Beaverhead Country Club, and the Lutheran Church.
Bob's wife, Clara, grew up in Billings and graduated from Billings Senior High School. She worked as a switchboard operator for Mountain Bell and in the banking industry before she and Bob moved to Dillon. Clara worked for the TCI cable company where she was promoted to manager and eventually retired in 1994. She was very active in the Lady Elks Club, Shakespeare Club, and Lutheran Church. She logged many late hours as an election volunteer and donated her time at the information desk at Barrett Memorial Hospital. During her time with the Dillon Jaycees, she held multiple positions, including President, and received several state awards.
"Bob and I didn't go to college, but we always impressed upon our children the value of obtaining an education," said Clara. "Bob was a member and past president of the Western Montana College Booster Club and saw the value scholarships had in helping students realize their educational goals."
For the upcoming 2023-24 academic year, the scholarship will be awarded to Early Childhood Education major, Jessika Jones. Jones has a passion for teaching and is excited for the opportunities UMW's Education Program and this scholarship will provide.
"When I first went to college, I knew I wanted to pursue a profession that helps children, so I decided to become a pediatric nurse. After one year of studying nursing, I felt as if something was missing from my passion. I soon realized that in addition to caring for children, I wanted to teach them– so I changed my major to Early Childhood Education. Upon attending classes and gaining experience teaching children, my heart became full. I knew that the piece that was missing before was the component of teaching. Upon completing my associate's degree in Early Childhood Education, I wanted to further my studies which led me to pursue a Bachelor's Degree in Pre-Kindergarten through Third Grade Education at the University of Montana Western. To this day, I am thankful and excited to become a full-time educator," said Jones.
The University of Montana Western Foundation is grateful for the generosity of the Gerringa Family and their support of education students at Montana Western. To learn more, please contact UMW Foundation Executive Director, Roxanne Engellant: 406-683-7305 or roxanne.engellant@umwestern.edu.