Albertson: Genevieve Albertson Shakespeare Club Memorial Scholarship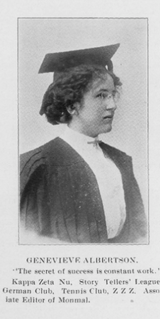 The Genevieve Albertson Shakespeare Club Memorial Scholarship was established at Montana Western after the retirement of Miss Genevieve Albertson, and is granted to an outstanding Montana Western student majoring in English. 
BIO
Miss Genevieve Albertson personified the prestige and quiet dignity of Montana Western for almost a half a century. 
Miss Albertson was born March 23, 1891 at Saguache, Colo., and came to Montana in 1907 when her family began ranching in the Twin Bridges area. A graduate of Montana State Normal College in 1912, she received a Bachelor of Pedagogy degree. Following graduation, she taught at the Eureka Elementary School until 1916, Harden High School from 1916 until 1921. During that time, she completed work toward a Bachelor of Arts degree at Montana State University at Missoula (Now University of Montana.) She joined the Montana State Normal College (Now Montana Western) as an instructor of English in 1921 and continued her career until retirement. She became chairman of the UMW English Department in 1921 and retired as professor emeritus July 1, 1961.
Miss Albertson continued studying during her teaching career, receiving a master's degree from Columbia University Teachers College in 1929. She attended four years of summer sessions at the University of Washington and spent the summer of 1951 at the University of London Summer School. Following retirement from Western, Miss Albertson taught five years at Carroll College in Helena before returning to her Dillon home. She had also served as a summer session instructor at the University of North Carolina in 1930 and Army Aid Cadets at UM in 1943 and 1944. Seven presidents headed WMC during Miss Albertson's campus tenure and all have recognized and praised her contributions to the school.