Andersen: Georgiana & Hans Andersen Scholarship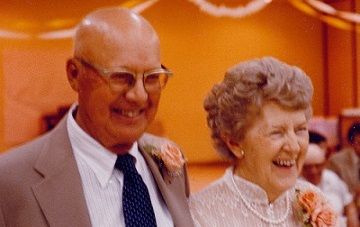 Established in memory of Hans C. and Georgiana Crouse Andersen
Awarded based primary consideration on students demonstrated scholastic ability, secondary consideration based upon financial need. Preference to a Beaverhead County High School graduate.
Bio of Georgiana & Hans Andersen
Georgiana was born Feb. 4, 1913, in the Gallatin Valley at Springhill. She moved to Dillon with her parents, Fred and Pearl Crouse, where she attended and graduated from Beaverhead County High School. She then continued her education and graduated with her teacher's certificate from Montana State Normal College (University of Montana-Western).  Hans was born in Dillon on July 26, 1906, son of Hans and Kirstine Andersen. At age six, he moved to Denmark with his mother. He returned to Dillon three years later and attended Beaverhead County High School. Georgiana married Hans Christian Andersen on August 15, 1933. They spent more than 50 years gradually building a sheep and cattle ranch primarily on Blacktail Deer Creek. Hans supported Dillon community activities including Barrett Memorial Hospital and Western Montana College.They were married for 63 years until his death on May 10, 1996. Georgiana had many other community activities which were important to her including P.E.O., Sons and Daughters of Montana Pioneers, Order of Eastern Star, Western Montana College support group, Dillon Community Concert Association, and many years volunteering at Barrett Hospital. Her community support of Dillon was reflected by many tributes including being voted "Outstanding Woman of the Community" and Dillon Labor Day Parade Marshall with Hans. She passed peacefully on Nov. 13, 2007.