Benson: Arnold & Cora A. Benson Scholarship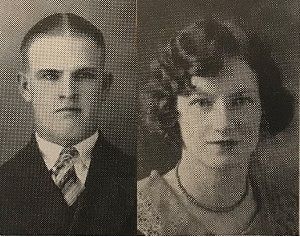 Established by Cora A. Benson. Arnold and Cora were both alumni of Western.
Awarded to a freshman student who is a Montana resident with financial need. A minimum 2.5 GPA is required. This award is renewable for three successive years if student maintains 2.5 GPA or higher.
Bio of Cora & Arnold Benson
Cora was born in Dillon on Dec. 8,1911 to Albert and Pedersine Anderson. She attended schools in Dillon and graduated from Montana Western in 1932. She married Arnold Benson on March 19, 1932 and they lived in Livingston for five years before returning to Beaverhead Valley. Arnold proceeded in her death in Dec. 1990. Cora was active in such organizations as the St. James Episcopal Church, Order of Eastern Star, Rainbow for Girls, PEO, Shakespeare Club, Beaverhead Foundation, Grand Cross of Colors, Life associate of Montana Western, Lewis and Clark Historical Association, Barrett Hospital Foundation and the Parkview Acre Sr Foundation. Arnold was born on May 22, 1907 in Red Wing, Minnesota to August and Elizabeth Benson. He graduated from high school in Litchfield, Minnesota and came to Montana in 1925, graduation from Montana Western in 1927. He taught school for nine years in Belfry and Livingston, Montana. He resigned his teaching career and started ranching, at one time he was the fifth largest breeder of pure-breed Hereford cattle in Montana. Arnold was very active in the community, he was president of Beaverhead Rancher Round Table, and was also apart of Dillon Bull Sale, County Farm Bureau, help organize and build the Parkview Acres Convalescent Center, the first president of the Livestock Auction Yards,a member of St. James Episcopal Church, the Dillon Masonic Lodge, Dillon Foundation, BPOE of Elks Lodge 1554.