Davis: Carl & Martha Davis Anniversary Scholarship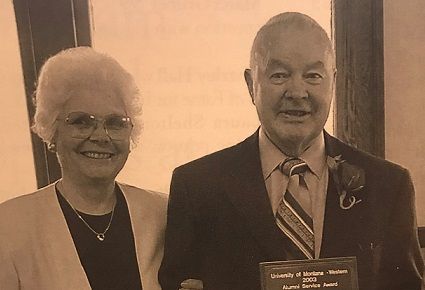 Established by Carl and Martha in honor of their 60th wedding anniversary.
Awarded to a special student in good standing with a great deal of potential.
Bio of Carl & Martha Davis
Carl was born Nov. 21, 1922, on the family farm on Blacktail Creek to Florence and Loren Davis. He attended public schools in Dillon, graduating from Beaverhead County High School in 1940, and then spent two years at Western Montana College. Carl served as a Marine night fighter pilot in the Pacific Theater during World War II for which he was awarded the Distinguished Flying Cross. Carl attended the University of Montana on the GI Bill and graduated from the law school in 1949. While in Missoula, he met his future wife Martha Brown. In 1950, they were married in St. Ignatius, Montana, and Carl established a private law practice in Dillon. Carl practiced law with partners Leonard Schulz, John Warren, and Bill Hritsco for 58 years. He served as Beaverhead County Attorney from 1950 to 1970. He was a longtime member of the Supreme Court Commission on Practice, Supreme Court Judicial Nomination Commission, and the Montana Judicial Standards Commission. Carl Maurice Davis, 89, of Dillon, passed away on May 3, 2012. Martha  Brown Davis, 94, passed away on March 26, 2023.