Davis Memorial Scholarship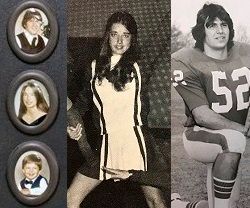 Established by Bill and Rosemary Geer in remembrance of their son-in-law Wayde, daughter Jana and grandson Casey.
Awarded to an athlete or cheerleader with a minimum 2.5 GPA who is demonstrates character, citizenship and leadership.
Bio of the Davis Family; Wayde, Jana, & Casey
Wayde Davis was an assistant coach at Whitefish High School. He graduated from Montana Western in 1979 and earned a Bachelor of Science degree in Secondary Education. Davis was ranked one of Western's all-time football greats. He won four All-Frontier Conference first team- selections, three NAIA District 12 berths, and twice he received NAIA All-American honorable mention playing center. Jana Davis, former Jana Lee Geer of Polson, received a Bachelor of Science degree in Elementary Education from Montana Western in 1980. Jana was a member of the cheer leading team during her collegiate career at Western. On January 21, 1984, a bus full of Whitefish high school wrestlers, cheerleaders, and coaching staff were hit by a semi truck on their way home. Out of the 30 people, only 9 were found deceased. Among those 9 were Wayde, Jana, and their 3 year old son Casey. The family's daughter, Breann (5 years old), survived the crash.