Dr. Robert M Miller, DVM Scholarship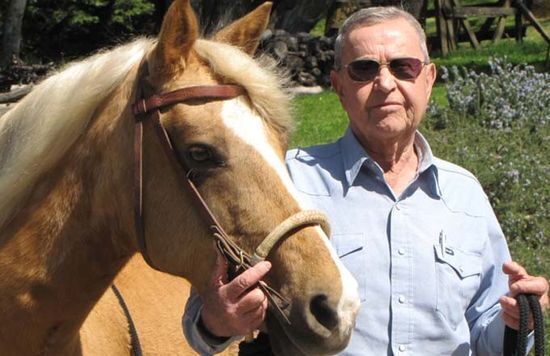 Dr. Robert M. Miller, DVM, is one of the world's foremost authorities on equine behavior. A retired large and exotic animal clinician, Dr. Miller revolutionized the concept of imprint training as it pertains to horses and other precocial species and has spent the last 40 years as an educator and author.
In honor of his 96th birthday on March 4, the University of Montana Western Foundation and the Miller Family have created the Dr. Robert M. Miller, DVM Academic Scholarship, to be awarded to an outstanding student within the Equine Studies Department. The recipient will have demonstrated academic excellence, as well as an aptitude and passion for the principles of Natural Horsemanship, a philosophy of training, riding and communicating with equines that uses non-coercive methods and is based upon understanding their innate behaviors and instincts.
Dr. Miller followed in the footsteps of Natural Horsemanship founders Bill and Tom Dorrance. A retired large and exotic animal practitioner, Dr. Miller also revolutionized the concept of imprint training as it pertains to newborn foals and other precocial species and has spent the last 40 years as an educator, clinician, and author on the subject. He has received numerous awards for his work as a veterinarian and behaviorist, including the prestigious Leo Bustad Companion Animal Veterinarian of the Year, Western Horseman Award, and the Hall of Fame at the Western States Horse Expo. Dr. Miller is also an accomplished veterinary and Western cartoonist, and his work has been featured in countless magazines, journals and books; his moniker, "RMM," was derived from his cartoon signature.
Dr. Miller is the author of 23 books and DVDs on horsemanship and imprint training; his acclaimed Natural Horsemanship Explained is also used as a textbook in Montana Western's Equine Studies Department. He has visited six continents teaching the principles of imprint training, which has been implemented in stables, breeding programs, zoos, wildlife sanctuaries, and game preserves worldwide. 
Dr. Miller was born on Staten Island. Following two years of military service in post-occupation Germany, he used his GI Bill to attend the University of Arizona in Tucson. After graduating with a Bachelor of Science degree in Animal Husbandry, Dr. Miller attended Colorado A&M (now Colorado State University) in Fort Collins, where he received his Doctor of Veterinary Medicine in 1956. He founded the Conejo Valley Veterinary Clinic in Thousand Oaks, California, in 1959 and grew the hospital to a highly successful, 12-person mixed practice by the time he retired in 1987 to become a full-time educator. In his spare time, he was an avid skier, rider, world traveler and outdoor recreationalist; he and his wife of 67 years, Debby, still reside on their small mule and Quarter Horse ranch in Southern California.
Dr. Miller has dedicated his life to teaching equine enthusiasts and professionals more humane, scientifically proven methods of handling and training horses to create a better life for a species that has served mankind for thousands of years, and he remains active as an educator and writer. 
This scholarship was established by his son, Mark, and his daughter, Laurel, to carry on Dr. Miller's methods and legacy into perpetuity. 
DONORS HELPING TO ESTABLISH A PERPETUAL SCHOLARSHIP FUND:
Laurel Miller
Mark Miller