Guelff: Michael Guelff Memorial Scholarship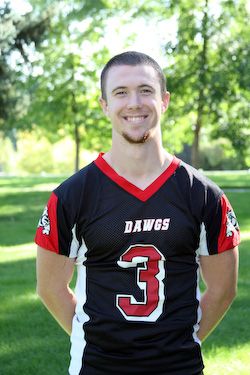 Established by his parents Michelle and Steve Guelff
Awarded to a full time student in good standing based on leadership, citizenship and need. Preference to Montana Western football player.
Bio of Michael Guelff
Michael David Guelff, an accomplished scholar-athlete, respected friend and teammate, and admired and loved son and brother, died Saturday, Aug. 1, 2009, of wounds sustained in an automobile accident near Dillon. Michael was born in Billings March 17, 1987, to Steve and Michelle. He attended elementary and middle school in Billings before graduating from Billings West High in 2005 where he earned All-State football honors as a part of the Golden Bears football team. He then went to the University of Montana-Western where he played football, once earning All-Conference recognition as a wide receiver; he was scheduled to graduate following the 2009 fall semester. Throughout his athletic career, Michael was always a student first, caring deeply about his education. While at UM-Western he was consistently on the Dean's List for academic excellence. His high priority on education was made unfailingly evident this past school term when he earned a prestigious National Football Federation scholarship. Throughout life, the locker room, gym floor or football field was where Michael was most at home, and where he was happiest. He brought out the best in his friends and teammates, and was completely unselfish as an athlete, always placing the goals of the team above his own accomplishments. His hard work, self-discipline and determination were the traits that helped him in all he achieved, and he proved that the size of his heart was all that mattered. He chose not to be the center of attention on the gridiron, but rather to lead by example. Michael formed tight bonds with many of his high school and college teammates, often commenting that football to him was about so much more than the wins and losses, but about the camaraderie shared by teammates and friends.