Hull: Frank (Frog) Hull Scholarship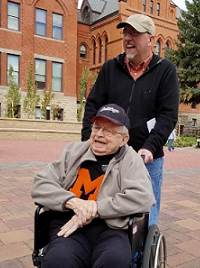 Frank (Frog) Hull: Educator, Adjudicator, Entertainer, Officiator.
Frog and his wife Yvonne are retired educators who share a passion for our written and spoken language. They have experienced firsthand how education transforms lives. Their desire is to support others on journeys from humble beginnings to fulfillment.
Scholarship to be awarded to a student from Montana majoring in English. This student will have demonstrated:
Academic discipline
Community service
Vision for the future