Marold: Zac Marold Memorial Scholarship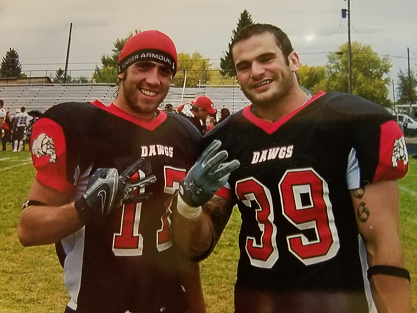 (Zac is on the right of the photo)
Established by Frank Marold in memory of his son, Zac.
Awarded to a student athlete who exhibits profound improvement in their field of study; is a natural team leader; mentor to teammates and is inspiring and motivational.
Bio of Zac Marold
Zac Marold was a student athlete on the Montana Western football team in 2007 and 2008. Zac grew up in the State of Utah and enjoyed the outdoors. Zac loved to travel. He had been to twenty one states before he went to high school. Although Zac loved to travel, when he had a couple free days, he and his friends were off to the remote Uinta Mountains to Blue Lake for camping. Zac was a die-hard Chicago Bears, Cubs and Utah Jazz fan. Zac loved to play football and basketball as well as play his base guitar late night after football games with friends. Zac enjoyed long boarding with his two pitbulls, Tommy and Layla. They would pull him along Utah bike paths. He would say, "I'm going sledding" with a smile. He was an extremely humble about his athletic accomplishments. At only 6 feet tall, Zac had several rebound dunks over much bigger opponents. He was a first team all-state 5A football player at Safety. He played his first 2 years of college football at the University of Utah where he earned a Fiesta Bowl ring as a member of the 2005 team coached by Urban Meyer. Zac felt athletic events should be very competitive, but life should not be. Zac was quick to volunteer for the underprivileged and enjoyed being a sub for Santa during the holidays. Zac ended his own life for unknown reasons in February 2009. He had a lot of family and friends who loved him very much. Zac's father encourages support of local suicide prevention organizations and is grateful for the legacy this scholarship will provide.