Mock: Robert Mock Memorial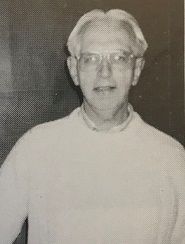 Established by the primary faculty members of the Department of History, Philosophy and Social Sciences (HPSS) in remembrance of Robert who taught at Western Montana.
Awarded to a student with a minimum 3.25 GPA, enrolled in the BA Social Science degree program with a related area from those offered by HPSS, and has participated in a community service project.
Bio of Robert Mock
Robert was born Aug 9, 1926, in Windber, PA. He held degrees from Juniata College, PA, Pittsburgh Theological Seminary, PA, and Ball State University, Indiana. His life was spent in the ministry of the church of the Brethren. He retired in 1987 and came to Dillon in 1992 to help his son build a house, and then moved to Dillon permanently in 1994. He taught classes at Montana Western, served as an advisoer to the Service Learning Program and was a counselor to many. Robert Mock, age 74, died at the home of his son.