Richardson: Swede Richardson Memorial Scholarship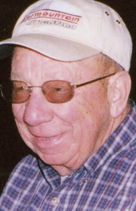 Established by his wife Jackie Richardson
Awarded to a full time student in good standing with an incredible work ethic, civic engagement, selfless attitude and servant leadership.
Bio of Swede Richardson
Swede was born on August 22, 1934, in Dillon, Montana, to Walter and Marie (Wenger) Richardson. He attended school in Bannack through the fifth grade, then moved to Dillon and graduated from Beaverhead County High School in 1952. He served in the U.S. Marine Corps from 1953-1956. He married Jacklynn (Cowan) on June 29, 1957. Swede was well known for his practical jokes and fun-loving spirit. Because of his integrity and caring ways, he touched the lives of many. He was known for his work ethic at Southmont Tractor, and later at Intermountain Irrigation, the business he owned with his son, Jim, for 33 years. Jimmy W. 'Swede' Richardson passed away Nov. 13, 2015.