Simkins: Forever MJ #18 Scholarship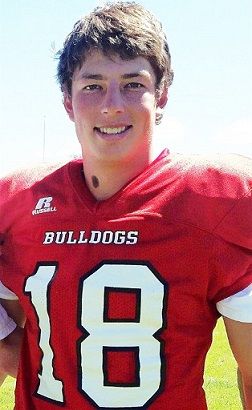 Established by his family in memory of MJ.
The Forever MJ #18 Scholarship will be awarded to a Jr. or Sr. Secondary Education major. The successful applicant will be a football player with 2.5 GPA or higher. Preference will be given to a Montana resident.
Bio of Mark James Simkins, Jr.
Born May 29, 1995 in Dillon, M.J. was passionate about his faith, family, football, community and education. A 2014 graduate of Beaverhead County High School, M.J. helped the Beavers win the State A football championship in 2011 and 2013, the latter as a senior captain and All-State player. M.J. continued his football career at Dillon's University of Montana Western. A secondary education major, M.J. earned Frontier Conference and National NAIA All-Academic honors. M.J. played American Legion baseball seven years for the Dillon Cubs and earned All-Conference and All-State honors. He has, since his playing days, given back to the sport as a Little League and American Legion baseball umpire. M.J. developed his sense of service to community helping his grandfather with the Dillon Elks Hide Drive and collecting donations for the Beaverhead Food Pantry. M.J. and his friend Donovan Hucke teamed as a volunteer coaching staff through their four years of high school, helping teach football basics in the DFL, a youth flag football league. M.J. belonged to St. Rose of Lima Catholic Church and was a first degree member of Knights of Columbus Council #4069. M.J. embraced a love of family and attended and participated in all formal and informal gatherings of his extended family. A tragic accident took the life of Mark on May 30, 2017, a day after he turned 22.