Roxanne Engellant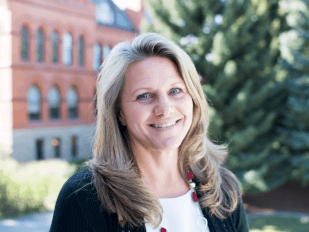 Roxanne Engellant is the University of Montana Western Foundation Executive Director and the Director of University Development and Alumni Affairs. As the Executive Director of the Montana Western Foundation, Roxanne's responsibilities include, promoting and supporting the university, building and maintaining strong alumni and community relations which includes community events and outreach.
Roxanne joined the University of Montana Western Foundation in 2011 and works closely with Chancellor Michael Reid to promote and garner support for the university's students, programs and faculty. In addition, Roxanne is responsible for daily management and oversight of foundation reports, funds, budget, audit and general accounting.
Roxanne has over 30 years of experience in building and maintaining relationships with clients. Prior to joining Montana Western, Roxanne spent 20 years in the insurance industry in a multitude of roles ranging from customer service, to data coordination and sales.
Working closely and effectively with academic departments, admissions, marketing, athletics, university relations, conference & events, faculty, staff and foundation board members is critical in her position.
Roxanne graduated from Carroll College in 1991 with a Bachelor's Degree in Accounting and Business Administration. She and her husband, Kevin, a UMW Business Professor have three children, JT (Emily), Courtney and Kyler and two grandchildren, Madison and Kale.